Stephen Herron named as new NI director of public prosecutions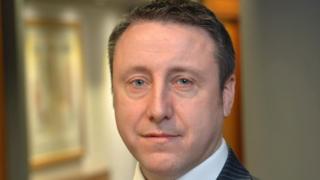 Stephen Herron is to be the new director of public prosecutions (DPP) for Northern Ireland.
Mr Herron is currently the acting deputy director of public prosecutions and is a solicitor specialising in criminal law.
The Attorney General for Northern Ireland, John Larkin QC, made the announcement on Friday.
The appointment will take effect from 2 January 2018.
Mr Larkin said he was delighted to make the appointment and paid tribute to the outgoing director Barra McGrory.
Commenting on his appointment, Mr Herron said: "I have worked in the service for the last 15 years and it is an honour to have the opportunity to take on this role."
Mr McGrory told Public Prosecution Service (PPS) staff he would resign in May.
He became the first Catholic to hold the post when he was appointed in November 2011.