Tory calls for NI referendum on EU customs union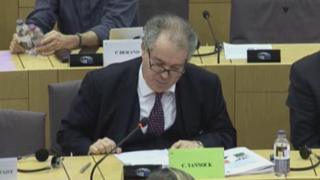 A Conservative MEP has suggested there should be a referendum in Northern Ireland in which voters could decide if they want to stay in the EU's single market and customs union.
Prime Minister Theresa May has said the whole of the UK will leave the single market and customs union after Brexit.
Speaking at the European Parliament's constitutional affairs committee, Charles Tannock said people in Northern Ireland should be given an option.
He is strongly opposed to Brexit.
The London MEP said people in Northern Ireland could be asked which custom union and single market they wish to belong to after Brexit - the UK or a special economic area with the EU.
"Given the controversy and the dangers of getting this wrong, I really do think now that [a referendum is] the only way to solve this democratically," he said.
Mr Tannock also said he had been "rubbished on Twitter" by the DUP two years ago when he warned that the Irish border would present a problem.
"They claimed this was going to be a bilateral matter between London and Dublin and nothing to do with the European Union, but that's what - I'm afraid - was their view at that time."
'Tory arrogance'
He also described attempts to compare a post-Brexit Irish border to the Sweden/Norway border as "disingenuous".
He said this was because Norway's participation in the European Economic Area means it retained "100% regulatory convergence" with the EU single market.
Earlier this year, Mr Tannock told the Irish Times he had obtained an Irish passport and criticised what he said was his party's "arrogance, hubris, petty nationalism and triumphalism".
He was eligible for an Irish passport because his grandmother was born in Dublin.
The committee was also presented with a report compiled by academics from Queen's University, Belfast, which warned that Brexit poses "deep risks" for the peace process in Northern Ireland and the 1998 Good Friday Agreement.
One of the report's authors, Dr Katy Hayward, said: "Brexit potentially means wide-ranging divergence between the UK and Ireland in law, trade, security, rights, policies and politics, thus putting the agreement at risk of deep fissures.
"Any 'hardening' of the Irish border is not just a practical impediment to cooperation and economic growth, but also an obstruction to the effective implementation of the agreement," she added.
Her co-author, Prof David Phinnemore, said there was "no reason to doubt that the challenges can be addressed," given commitments by the UK and EU to address the "unique circumstances on the island of Ireland".
However, he added it would require "compromise and flexibility on all sides".