'Numpties' sparked Robertson's anger at NI Open snooker event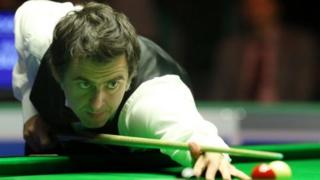 Ronnie O'Sullivan has said he believes Neil Robertson's criticism of the Northern Ireland Open snooker tournament has been sparked by "numpties who don't have much etiquette".
The Australian player was critical of the lack of practice facilities at the event in Belfast's Waterfront Hall.
He said the set-up was "garbage" and likened it to the film Shawshank Redemption, when you have to "crawl through a lot of the crap to come out the other end a happy person".
O'Sullivan acknowledged there was a problem getting practice at such events and said he had dispensed with it.
"When you have numpties, they don't have much etiquette and they will hoard the practice table," he told BBC News NI.
"If you have, say, 64 players, each player should have at least 10 minutes on the table to hit a few balls.
"I get what he [Robertson] is driving at, but you cannot let it affect you.
"He finds it difficult, I get that, it is what it is, the venues are not big enough to support the tour.
"I don't practise at the venues, I refuse to stand and wait, I have had enough."
Robertson voiced his frustration to Eurosport after defeating Billy Joe Castle in the second round of the tournament on Wednesday.
"I couldn't book a practice table before this match, which might explain why I'm a bit rusty-ish in the match," he said.
"It is very frustrating because as soon as you finish you book a table before your next match. There was nothing available. I got seven or eight minutes in, which is not ideal."
Robertson and O'Sullivan, who are former world champions, both exited the tournament on Thursday at the last-32 stage.
For O'Sullivan, it ended his hopes of winning a £1m jackpot available for winning the English, Northern Ireland, Scottish and Welsh Opens.
He gave his reaction to missing out on the potential cash bonanza.
"I am glad the talk is over, it was getting on my nerves, I don't play snooker for money, I play it for the love of it," he said.
The 41-year-old added that he loved playing in Belfast, but had preferred the surroundings at the Titanic Exhibition Centre which staged last year's Northern Ireland Open.
"I liked the Titanic centre better, it was like a village and there was a bit of electricity in the air," he said.
"I think the Waterfront will be better now it has gone down to one table from three, with the crowd down the side.
"Snooker is not golf, it needs to be intimate with the crowd on top of you."
'Challenges'
In a statement, World Snooker said it was "delighted" with the Waterfront Hall venue and confirmed the Northern Ireland Open would be returning there next year.
"Crowds have been good, it's a superb facility and the people at the Waterfront have been a pleasure to work with," it said.
"We have already agreed the dates to return next year and we look forward to coming back.
"There are challenges associated with staging major tournaments with 128 players.
"We aim to provide the best possible conditions for players and we always take their feedback on board. Our global tour includes nearly 30 events with prize money at a record £13m so it is a great time to be a snooker player."
A spokesperson for the Waterfront said they had "no comment to make at this time".
The Northern Ireland Open has a total prize fund of £366,000, with the winner of Sunday's final picking up £70,000 plus the Alex Higgins Trophy.