Lord Kilclooney withdraws 'Indian' Leo Varadkar tweet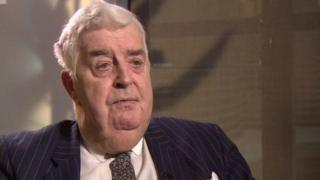 Former senior Ulster Unionist Lord Kilclooney has withdrawn a tweet in which he described Irish prime minister Leo Varadkar as "the Indian".
Sinn Féin's Alex Maskey and Alliance Party deputy leader Stephen Farry both described the tweet as racist.
Lord Kilclooney said the tweet was "not racist" but "shorthand for an Indian surname which I could not spell".
He has since written that the tweet had "caused upset and misunderstanding and so I withdraw it".
"In Twitter one is restricted to a limited number of words and so for shorthand I used the term Indian for the new PM in Dublin," he wrote.
"This has caused upset and misunderstanding and so I withdraw it. I am no way racist and accept that Varadkar is 100 percent Irish Citizen."
Mr Varadkar was born in the Republic and is of Indian heritage.
He was elected taoiseach (Irish prime minster) in June.
Lord Kilclooney issued the tweet on Thursday evening in response to a news story about Irish Foreign Minister Simon Coveney.
He wrote: "Simon Coveney is stirring things up. Very dangerous non statesman like role! Clearly hoping to undermine the Indian."
Afterwards, Mr Kilclooney said that he was unsure of how to spell Mr Varadkar's name and had used the word Indian as "shorthand".
Some Twitter users, including BBC News NI's Mark Carruthers, pointed out that Lord Kilclooney had spelled the taoiseach's name correctly in previous tweets.
Lord Kilclooney responded: "One swallow does not make a summer!!! Previously spellings had been wrong!"
In response to the original tweet, Mr Maskey wrote: "Can't see that comment as anything other than racist?"
Mr Farry also wrote on Twitter: "Let's call this out for what it is - racism. The Taoiseach is just as Irish as Simon Coveney. Let's see if there is the courage and integrity to withdraw this."
Ulster Unionist leader Robin Swann said on Twitter that Lord Kilclooney was not a member of the party and "speaks for himself".
Former victims' commissioner Patricia McBride tweeted that she would report Lord Kilclooney's comment to the House of Lords commissioner for standards.
Lord Kilclooney was previously criticised for a tweet in August when he claimed that unionists and nationalists were not political equals.