Bookmaker arrested in gambling law probe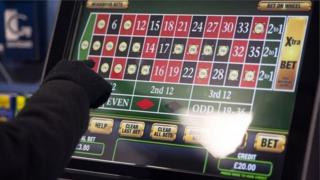 A bookmaker has been arrested after a PSNI investigation into whether fixed odds betting terminals are in breach of Northern Ireland gambling laws.
A file has been sent to the Public Prosecution Service which will decide if the bookmaker will be charged.
There are believed to be about 600 fixed odds betting terminals or FOBTs in Northern Ireland.
The machines were formally legalised in the rest of the UK in 2005.
However gambling law is a devolved issue and the 2005 law does not apply in Northern Ireland, where the last gambling law was passed in 1985.
That law says gaming machines should only have a maximum stake of 30p.
However, a FOBT has a maximum stake of £100.
Problem gamblers
The law also says the maximum winnings for a gaming machine can be no higher than £8 while the maximum winnings in a FOBT are £500.
Campaigners say the machines, where stakes of £100 can be placed every 20 seconds, are dangerous for problem gamblers.
The six biggest bookmakers in Northern Ireland - Ladbrokes, William Hill, Paddy Power, Sean Graham, McLean's and Toal's - all have FOBTs in their shops.
The betting industry says the majority of people use them responsibly.
Bookmakers are understood to dispute whether FOBTs should be classified as gaming machines.
If the case against the bookmaker proceeds to trial, it will be seen as a test case for the legality of the machines in Northern Ireland.
The PSNI said it had recommended prosecution in relation to two counts under 1985 legislation:
Permitting a player of a gaming machine to receive excess winnings
Charging a player of a gaming machine an amount in excess of that permitted
BBC Spotlight's investigation into Fixed Odds Betting Terminals is available on the BBC iPlayer.