Norman-era castle 'hidden by trees'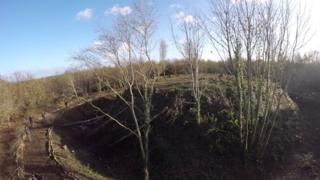 Hidden away on the Mount Stewart estate in County Down is a piece of history - that only now is coming to light.
It is a Norman-era motte-and-bailey castle, built about 800 years ago.
Since the National Trust obtained the land three years ago, this is the first chance it has had to clear the site of the trees which have hidden it, on and off, for centuries.
The archaeologists are delighted.
The National Trust's regional archaeologist, Malachy Conway, led me through the trees onto what he called an "absolutely stunning" site.
"A year or so ago you wouldn't have seen this, it was just dense vegetation," he said.
"It's probably one of the best-preserved mottes I've seen in quite some time."
'Defensive structure'
The 12th Century motte-and-bailey castle lies on the Ards peninsula on the Mount Stewart Trust Estate.
A special Lidar image for archaeologists showed there was something there, and a conventional photo promised something circular, hidden among the trees.
"It's a defensive structure - a tall mound, in this case 23 metres in diameter, surrounded by this really imposing deep ditch," explained Mr Conway.
From the historical records, he can place a particular Norman tenant - a man called Robert de Singleton - there in the year 1333.
The site has been cleared over many weeks by the Head Ranger at Mount Stewart, Toby Edwards, and teams of volunteers.
Mr Edwards said it had required more than 800 hours of work to fell the trees growing on the motte.
"We're just coming to the end of it now," he said.
It is hoped the site will attract human visitors, as well as species of bees and butterflies.
The National Trust wants to open it to the public in the next few weeks.