NI jobless rate falls to nine-year low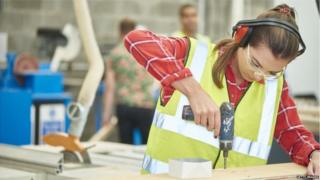 Northern Ireland's unemployment rate has fallen below the UK average to 4%, its lowest point since 2008.
According to the latest official figures, the number of people claiming jobless-related benefits dropped by 100 in October, to 29,300.
The headline total has now decreased for 20 consecutive months.
The UK's unemployment rate is 4.3% and Northern Ireland has not been below it for four years.
However, other measures of the labour market remain poor compared to the rest of the UK - employment is down and economic inactivity is up.
The rate for long-term unemployment - classed as anyone out of work for at least a year - is more than twice what it is for the rest of the UK.
The figures do not "provide much comfort", said Esmond Birnie, senior economist at Ulster University's Economic Policy Centre.
"Northern Ireland's employment rate continues to slump," he said.
"Raising the proportion of people in work and cutting inactivity had been key targets for previous Executives, particularly during 2011-16.
"Improvement has been elusive."