NI newspaper review: Football knock-out and memorial attack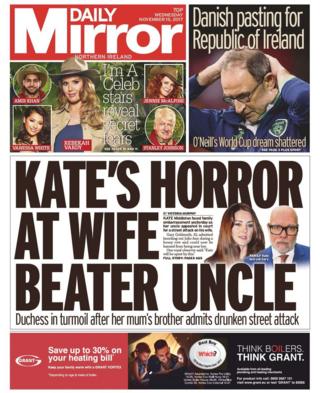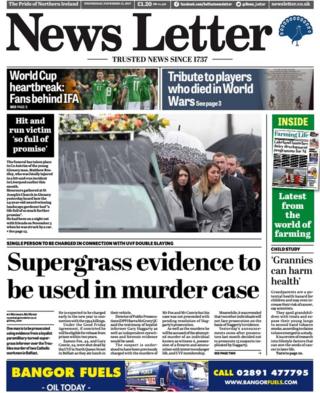 Further football anguish makes the front pages on Wednesday's papers after the Republic of Ireland was knocked out of the World Cup by Denmark.
The side lost 5-1 to the Dane's at Dublin's Aviva stadium on Tuesday night.
If they had been successful it would have been the first time that the Irish side reached the World Cup in 16 years.
Speaking after the match winger James McClean said: "I don't know what to say, we shot ourselves.
"I'm just devastated - not just for ourselves, for everyone."
While manager Martin O'Neill said: "We had to chase the game and Denmark took advantage. They deserved it."
Striking Gold
A football shirt worn by Northern Ireland striker George Best has sold at auction for £22,000 in London, according to the Belfast Telegraph.
The long-sleeved shirt was worn by the Belfast boy 47 years ago in the Home Nations Tournament in Windsor Park on 18 April 1970.
Best, who was 23 at the time, was sent off during the match after throwing mud at the referee.
However, players who were knocked out of this year's World Cup qualifiers might also want to hold on to their kit as it may well strike the jackpot.
In May, another of Best's shirts, worn in NI's 1964 World Cup Qualifier against Switzerland, sold for £17,000.
'Appalling'
An attack on a memorial in the Sperrin Mountains honouring soldiers killed during World War Two features in the News Letter.
The paper reports that vandals attempted to score out the names of the dead and wrote 'Up the IRA' on the top corner.
The damage was reported by members of the Mid Ulster District Council who went to the site on the Dirnan Road to lay wreaths.
Deputy chair of the council Mark Glasgow, UUP, described it as "appalling".
The Irish News reports that identical twins who received cancer diagnosis on the same day have died within hours of each other.
Sixty-two year olds, Krzysztop Kropidlowski and Waldemar Kropidlowski, moved to Lurgan from Gdansk eight years ago to be with their family.
According to the paper, each would feel pain if his brother was ill, even if they were in separate cities across the globe.
Waldemar's daughter, Beata, said: "My uncle Krzysztop was told he had breast cancer and two hours later we learned my dad had stomach cancer while they were being cared for in the same ward.
She told the paper that her uncle died after 17:00 GMT on Friday and her father died the following morning before 11:00 GMT.
"They were very close ," she said. "They were just typical twins."
Online images
The PSNI have launched an investigation after a private image of a female officer was shared online, reports the Daily Mail.
It is not yet known how the picture, which has been shared more than 1,000 times, ended up on social media sites - however, it is understood the cyber-security breach originated on WhatsApp messenger.
Chief Insp Keith Jackson said: "Police are currently working to establish the origins of a number of images posted across social media sites over recent days."
Heartbreak
The Belfast Telelgraph reports that a 26-year old man was crushed to death by a car he was repairing in County Tyrone.
Mechanic Richard Harron, who has a baby daughter, was found in a garage in Sion Mills on Monday.
It is understood that his father found him at the scene.
Ronnie Patton, who knew Richard from a young age, said it was an "awful time".
"I am heartbroken. It is a shock to the whole community."
The front page of the News Letter features a photograph of the funeral of County Antrim man Matthew Bradley.
The 24-year-old landscape gardener was fatally injured in a hit-and-run incident in Liverpool earlier this month.
Mourner, who gathered at Joseph's Church in Glenavy on Tuesday, were told how Matthew had "a life full of so much further promise".