Joseph Parker inquest hears of 'miracle' no-one else was killed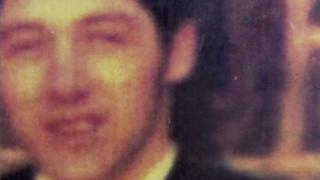 It was a miracle no-one else was killed the night a man was shot dead by the Army at a Christmas dance in 1971, a priest has told an inquest.
Joseph Parker, 25, who had a pregnant wife and 18-month-old daughter, was shot in the legs at an Ardoyne community hall in Belfast.
Father Augustine Hourigan, who was also at the dance, described sensing the potential danger when a patrol came in.
This is the second inquest into the death of Mr Parker.
An open verdict was recorded following an inquest in 1972.
In 2013, the Attorney General John Larkin directed that a fresh inquest be held.
'In the gear'
Fr Hourigan, a priest based at Holy Cross Church in Ardoyne, went along to the local dance in Toby's Hall on 10 December 1971.
During his evidence, a statement he gave the day after the shooting was read to the court.
He described how he went to speak to the officer he assumed was in charge of the patrol, and he told him that "in the gear" they were wearing they "would not be the most popular" in the hall.
The priest went on to describe hearing a shot which he thought was a rubber bullet, before leaving the hall as quickly as he could.
He said when he got outside, he heard "loads more shots".
The next day Fr Hourigan, along with two other priests and about 30 locals, went to the nearby Flax Street Barracks.
They were brought inside and he described meeting three Army officers and a chaplin.
He said they "expressed regret" at what had happened, said they were "very sorry" and that there had been "no intent to cause injury".
The group was told there would be an investigation into the incident.
'White blond hair'
On Monday, Mr Parker's sister, Teresa Watt, recalled the night her brother was shot. They had been at the dance together and two statements she had previously made were read to the court.
The first was from Christmas Eve 1971, two weeks after the shooting.
She said she had been dancing when five soldiers came in and the soldier in charge had spoken to a priest who told him it was just a "social occasion".
She then described hearing shots and initially thinking they were rubber bullets, but then saw a young soldier down on one knee firing from right to left.
It was only when the soldiers left that she saw her brother "slumped forward with his head touching his feet".
In a second statement, given to the coroner's staff this year, she described the soldier that fired as "handsome", having "white blond hair" and wearing a cap.
Her account contained more detail about the events leading up to the shooting. She said there had been "hassle" when the soldiers came in and that "maybe bottles had been thrown".
She confirmed no warning had been shouted by the soldiers before the firing started.
'Raging bulls'
During cross examination by the coroner and a lawyer for the Ministry of Defence, Mrs Watt became increasingly unwell and confused and was unable to finish giving evidence.
Mrs Watt's husband, Barney Watt, had been killed by the Army 10 months before her brother was shot.
In an inquest earlier this year, a coroner found that the Army's use of lethal force had been unjustifiable.
Another witness to the dance hall shooting was Joseph Parker's uncle.
In a statement from June 1972, he described three separate bursts of gunfire and said the soldiers had come into the hall like "raging bulls".
He disputed soldiers' evidence given to that inquest that they had only shot at the ceiling.
Under cross examination, discrepancies between his two statements were highlighted but also the fact they had been taken nearly forty six years apart.
The coroner is expected to give his findings next Wednesday.