Residents win permission to challenge £55m development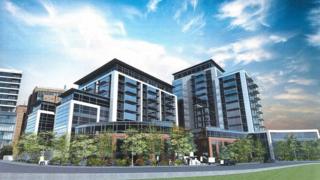 Residents from the Markets area of Belfast have won legal permission to challenge the building of a new £55m office space next to Central Station.
The Kilmona Group intends to build around 300,000 sq ft (26,000 sq m), spread across four blocks at Stewart Street and East Bridge Street.
Campaigners have claimed it will impact their right to privacy.
A High Court judge granted leave to seek a judicial review of the decision to approve the major construction.
Proceedings were issued against Belfast City Council after it accepted a planning application for the development.
The court heard that the Grade A office space will create 350 construction jobs and generate permanent employment for 2,500 people.
However, more than 200 households in the adjacent neighbourhood have objected.
Elizabeth Conlon, who lives in the area, brought the challenge on behalf of a wider group living in the Markets.
Her lawyer said that the planning committee's decision to approve the development was arguably unlawful.
He claimed a potential breach of privacy entitlements under European law, and argued that the office tower would be invasive and would overlook homes.
"This is a long, historical social housing location going back many years," he said.
"The tradition is two-storey housing in the Market area, this development will involve up to 10 and 14 storey-high development which is in strict contrast to the neighbourhood."
He told the judge the commercial scheme is inconsistent with the sense of community spirit.
It was also alleged that the planning committee was potentially misdirected when it considered issues around the height of the scheme.
A lawyer for Belfast City Council rejected claims that a "paucity" of information was put before the committee.
She said the point about overlooking homes was considered and not found to represent an unjustifiable interference.
Ruling on the application, the judge acknowledged the scale of the planned office block, which would also bring in £1.5m a year in rates.
"It's a development which is major from every perspective - physically, economically and any other respects," he said.
But based on the requirement to establish only an arguable case, he said "the threshold for granting leave to apply for judicial review has been overcome."
The legal challenge will be heard in full over two days in January.