Stormont deadlock: Sinn Féin press Varadkar for action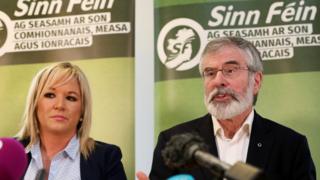 Sinn Féin has met with Taoiseach (Irish prime minister) Leo Varadkar in Dublin to press for action after the failure of the latest round of Stormont talks.
A delegation including leader Gerry Adams, and Stormont leader Michelle O'Neill met the taoiseach and Irish Foreign Minister Simon Coveney.
Mrs O'Neill has called for a UK-Irish intergovernmental conference to begin "mapping a way forward".
The government said it would continue to engage with power-sharing talks.
In a statement, the Irish government said the "focus of the meeting was the current political situation in Northern Ireland".
"The taoiseach and the minister reiterated the importance of effective power-sharing institutions in Northern Ireland for the overall implementation of the Good Friday Agreement," it said.
Sinn Féin's talks with the DUP broke up at the start of the month with no deal.
In the absence of devolution, the British government introduced a budget bill for Stormont in order to keep public services running.
Both Prime Minister Theresa May and Northern Ireland Secretary James Brokenshire stressed the intervention did not amount to the return of direct rule from Westminster.
However, the Democratic Unionist Party (DUP) has said it would support the appointment of direct-rule ministers if a deal is not reached "within weeks".
'Pave the way'
Speaking ahead of the Dublin meeting, Mrs O'Neill said: "Following the failure of the latest phase of talks, there is now a responsibility on the two governments to address the issues of rights which are at the heart of the crisis.
"They should ensure a meeting of the British-Irish intergovernmental conference takes place as soon as possible to begin mapping a way forward for the implementation of outstanding agreements and guaranteeing the rights of citizens.
"This would pave the way for the executive to be restored."
Northern Ireland's two biggest parties, the DUP and Sinn Féin, have been at loggerheads for almost a year over a number of issues.
Their power-sharing coalition fell apart in January, following a row over a green energy scandal, which is now the subject of a public inquiry.
Despite several months of talks, the two parties have not yet been able to resolve their differences over issues including an Irish language act and same-sex marriage.