Some NI parties 'strapped for cash' after election overload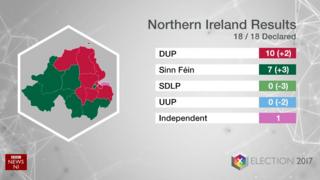 Sinn Féin was the highest spending party in Northern Ireland during the last Westminster election campaign.
Figures released by the Electoral Commission show the Conservatives spent more than the DUP despite standing just seven candidates.
In all a total of £120,000 was spent campaigning in June's general election. The Conservative party spent £7 for every vote it received.
Sinn Féin spent most at just over £28,000.
Surprisingly the Conservatives were next, spending £27,500 and returning with just under 4,000 votes.
Sinn Féin £28,196
Conservative and Unionist Party £27,488
Democratic Unionist Party (DUP) £21,802
Alliance Party of Northern Ireland £17,105
Ulster Unionist Party (UUP) £13,580
Social Democratic & Labour Party (SDLP) £9,274
Green Party £501
Citizens Independent Social Thought Alliance £125
People Before Profit Alliance £0
The Workers Party £0
Traditional Unionist Voice (TUV) £0
The DUP spent almost £22,000; Alliance paid £17,000 and the Ulster Unionists' bill was £13,500.
The SDLP spent a total of £9,000.
Three parties - The TUV, People Before Profit and the Workers Party - according to the figures did not spend any money on their campaigns.
One political party failed to deliver its expenditure return by the statutory deadline of 8 September and is under investigation by the Electoral Commission.
The individual candidate who spent most was Sinn Féin's Chris Hazzard in South Down at just over £15,000, followed closely by his colleague Elisha McCallion in Foyle on £14,500.
Two candidates recorded no spending - Jonny Orr, Independent, in Lagan Valley and Therese McCartney, Sinn Féin, in North Down. The least amount actually spent was £42.21 by Ricky Bamford of the Green Party in Strangford.
Six elections and a referendum in just three years has come at a cost for Northern Ireland's politicians. Some parties admit they are strapped for cash.