Patsy Kelly: Murdered man's family call on PM for help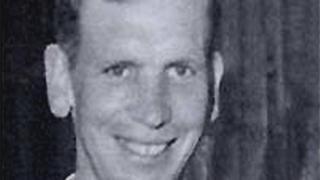 The family of a murdered nationalist councillor from Omagh have asked Theresa May for help in finding out who killed him.
Patsy Kelly went missing after locking up a bar in Trillick, County Tyrone, on 24 July 1974.
His body was later found weighed down in a lake 20 miles away.
No one has ever been brought to trial for the murder and the family are convinced that members of the security forces were involved.
On Tuesday, Mr Kelly's widow and other family members travelled to London with their legal team to seek the prime minister's help.
Speaking to the BBC after delivering the letter to Downing Street, Patsy Kelly Jr said: "What is required is full and utter disclosure by all state agencies.
"What we have been met with, time after time, is obstruction and delay and this needs to come to an end immediately."
The Kelly family were accompanied to Downing Street by their solicitor and Sinn Féin MPs Barry McElduff and Francie Molloy.
Mr McElduff said the family had made "strenuous, but so far unsuccessful efforts, to discover the truth about Patsy's murder, and the role played in it by members of the Ulster Defence Regiment".
The West Tyrone MP, who wrote the letter to the prime minister, said the family deserved answers.
"Their wait for the truth has been unconscionably long and painful," he said.
A legal team acting for the family have issued legal proceedings against the PSNI, claiming that the murder has not been fully investigated.
The family believe evidence in the original investigation was withheld and say relevant documents have not been released regarding the murder.