RHI inquiry: Question over NI's need for own energy scheme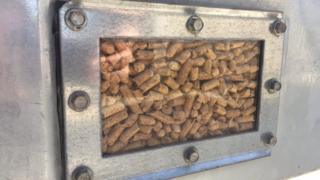 A public inquiry into a Northern Ireland renewable heating scheme has been told those behind an equivalent scheme for the rest of the UK had done a huge amount of work to prepare.
Junior counsel to the inquiry said there was a question over whether NI should have had its own scheme at all.
Joseph Aiken said some officials felt they did not have enough people to do the necessary preparation.
The inquiry into the Renewable Heat Incentive scheme began last week.
Mr Aiken said the inquiry would want to work out whether officials accessed the many reports done in the rest of the UK which identified potential problems with the setting up of what was a complex scheme.
'Equally generous'
The scheme in Great Britain began in 2011, a year before it was launched in Northern Ireland.
But on Tuesday the inquiry was told that work to prepare for it had started years earlier and had produced six consultations, six policy documents and three sets of regulations before it was put in place.
Mr Aiken said the inquiry panel would "probably have already gathered" that the work in Northern Ireland had not been resourced "to the same extent".
He posed the following question about officials charged with establishing the scheme here: "Did they identify the issues themselves or take the publicly available learning from the Department of Energy and Climate Change?"
Sir Patrick Coghlin, chair of the inquiry, said some claimed that the scheme for the rest of the UK had been "equally generous, if not more so" than the scheme in Northern Ireland.
"Whether they're right or not, I don't know, but there are certainly those who maintain that quite strongly," he said.
Earlier, Sir Patrick asked why a UK government department did not answer "detailed" questions sent to it.
The team investigating it sent the request to the Department for Business, Energy and Industrial Strategy (BEIS).
The BEIS inherited responsibility for the RHI scheme in the rest of the UK from a previous department.
Sir Patrick was told that despite being sent a request for answers to 30 questions in a 14-page document, officials had replied with a four page letter and two short annexes.
The inquiry team was trying to establish the extent of contact between NI officials and counterparts in the rest of the UK who had set up and run a similar scheme a year before the RHI scheme was launched in Northern Ireland.
While the inquiry can compel Northern Ireland departments, those powers do not extend to departments in Great Britain, which co-operate voluntarily.
Mr Aiken said that "somewhat brief response" of the BEIS indicated it held no record of any communication with officials in Northern Ireland.
Sir Patrick pointed out that such communication did exist.
"So the response we get from an English department here was to not answer any of the questions in order or in detail and to say that they don't have any records," he said.
Mr Aiken confirmed that there was an email trail which had been found in Northern Ireland's Department for the Economy, but as it did not include records that might exist in BEIS, his analysis of the contacts could not be based on a "comprehensive analysis of all the material, as it's just not there".
He said work was continuing to try and "plug any gaps" with BEIS.
'Short staffed'
Mr Aiken said there were six questions for the inquiry over the contact with officials in the rest of the UK, including:
Why hadn't Northern Ireland simply adopted the GB scheme as Scotland had?
Should officials here have embarked on a local scheme?
What mechanisms were in place to learn from the experience of the scheme in GB and were they sufficient?
What mechanisms were in place to monitor public announcements about changes to the scheme there?
What was done with any information received from officials in Britain, whether it had been analysed and who decided whether any of the information should be referred up to ministerial level?
In particular, Mr Aiken said was it reasonable to suggest that in 2012 the then enterprise minister Arlene Foster should have been told that officials in Great Britain were introducing cost controls into their scheme.
Mr Aiken said a plan to control subsidy levels was floated in a early consultancy report, but did not make it into the final scheme.
He said the method, known as degression and which adjusted tariffs as more claimants joined the scheme, would have required a "complex mathematical method".
He queried whether that was why it was left out.