Omagh security alert: Wreath laying to take place on Sunday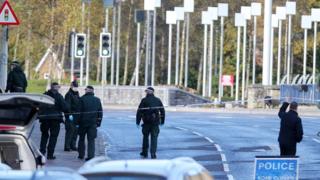 The Royal British Legion hopes to hold a wreath-laying ceremony - that was disrupted during a security alert on Remembrance Sunday - this weekend.
A viable pipe bomb was discovered a bin close to the cenotaph on Drumragh Avenue in Omagh.
The wreath-laying part of the remembrance ceremony was postponed as a result.
Police said they were following a "strong line of enquiry" that dissident republicans were responsible.
PSNI Chief Constable George Hamilton said that the device was "left to cause maximum disruption" to the commemorations and described it as "sickening and appalling".
In 1998, a Real IRA bomb in Omagh killed 29 people.
DUP MLA Tom Buchanan said he believed the planting of the pipe bomb was a "re-run" of the Enniskillen Poppy Day bomb 30 years ago that resulted in the deaths of 12 people.