First £50m of 'DUP deal' cash to be released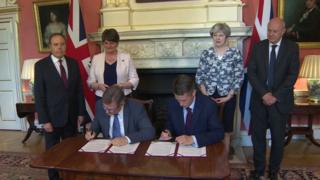 The first £50m of the £1bn deal agreed under the DUP-Tory pact will be released in this financial year, the Northern Ireland secretary has said.
The DUP negotiated extra spending of £1bn in June, as part of its confidence and supply deal with the Conservatives.
Northern Ireland Secretary James Brokenshire said the £50m will be made available for health and education.
The DUP's deputy leader Nigel Dodds said it was "a very significant moment".
The announcement was made as Mr Brokenshire brought a Northern Ireland budget before the House of Commons.
A UK government source confirmed to the BBC that the release of the money would have to be voted on, in a process known as Supplementary Estimates.
That is a process where, during the course of a financial year, the government asks Parliament for additional resources.
The secretary of state told MPs that once it is released, civil servants can decide how to spend the extra £50m earmarked for health and education.
A budget has not been passed in Northern Ireland as an executive has not been formed due to a dispute between the DUP and Sinn Féin.
Mr Brokenshire said that public services would begin to run out of money if a budget was not in place by the end of November.
He said he regretted having to bring a budget to Westminster but was hopeful an executive could be formed.