Derry city tractor driver was 'looking for women'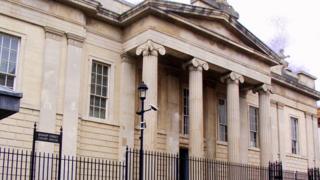 An 18-year-old who drove a tractor around Londonderry city centre told police he did so because he wanted to see if there were "any women about".
Anthony Breslin, a farm worker from Gortnaskea, Burnfoot, was charged with two road traffic offences in August.
The County Donegal man was charged with driving a tractor without displaying L-plates and travelling while unaccompanied by a qualified driver.
The case has been adjourned for sentencing until later this month.
Mr Breslin's solicitor told Londonderry Magistrate's Court on Monday: "This is a case of a man who drove on a tractor around the city centre looking for girls."
'Only one seat'
He added that the charge of driving without displaying L-plates was "probably a reflection on his status as a driver rather than on the amateurish way he went looking for girls in the city centre".
"He is pleading guilty to the charge but I am struggling with the charge of travelling while unaccompanied by a qualified driver in terms of a tractor cabin which has only one seat," he said.