Remembrance Sunday: Events held across Northern Ireland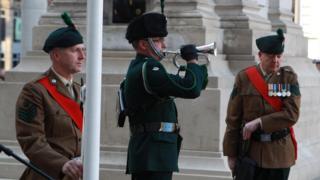 Remembrance Sunday commemoration events have been taking place across Northern Ireland.
Taoiseach (Irish prime minister) Leo Varadkar and Northern Ireland Secretary James Brokenshire attended a service in Enniskillen.
The Irish prime minister has attended a Remembrance Sunday event every year since Enda Kenny became the first to take part five years ago.
A two-minute silence was held at the Cenotaph at Belfast City Hall.
The occasion commemorates those killed in World War One and World War Two, as well as later conflicts.
The taoiseach, Mr Varadkar, laid a wreath made of laurel leaves in Enniskillen, with a message from the Irish government.
Others laying wreaths included families of those killed in the Poppy Day bomb 30 years ago.
Earlier in Londonderry, a tree-planting ceremony was held at the Woodland Trust's Brackfield Wood to remember soldiers from across Ireland who served in World War One.
Northern Ireland supporters also staged a Remembrance Sunday event in Basle, Switzerland, ahead of their World Cup play-off second leg.