Lisa Evans: Footballer's wife sorry for racist tweet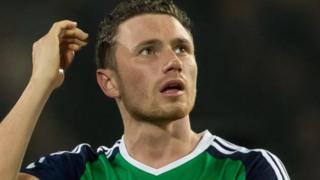 The wife of a Northern Ireland footballer at the centre of a penalty kick controversy has apologised for a racist tweet about the referee.
WARNING: EXTREMELY OFFENSIVE LANGUAGE
Northern Ireland were beaten 1-0 by Switzerland in a World Cup qualifier at Windsor Park on Thursday night.
The Swiss team won thanks to a penalty awarded after the referee deemed NI midfielder Corry Evans handled the ball.
Lisa Evans temporarily deleted her account after her offensive tweet.
But the account was reactivated on Friday afternoon, when Mrs Evans tweeted an apology, saying: "I should have never have let my emotions take over."
"I would like to sincerely apologise to anyone I offended for the language contained in my tweet," she tweeted.
"I understand it was completely unacceptable, I should have never have let my emotions take over.
"I would never condone racism in any way."
Thursday night's referee, Romanian man Ovidiu Hategan, was booed by fans after he made the controversial penalty decision.
WARNING: EXTREMELY OFFENSIVE LANGUAGE
In the tweet posted after the match, Lisa Evans wrote: "Romanian gypsy cunt!!! And to actually think Northern Ireland has probably homed one of his smelly relatives!! Ungrateful twat!! Anyway onwards and upwards #GAWA"
Corry Evans also issued an apology.
In a statement he said: "On behalf of my wife, I would like to apologise unreservedly for the content and language contained in the tweet that she issued last night.
"The comments were published in the heat of the moment and are not representative of her views."
A spokesperson for the Equality Commission said: "Racist and offensive language is not appropriate in any circumstances.
"When commenting on the behaviour of any individual, making reference to that person's ethnic or national origin is irrelevant."