Stakeholder PR firm wound-up over unpaid tax bill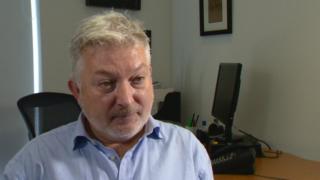 One of Northern Ireland's best-known public relations firms, Stakeholder, has been wound-up over an unpaid tax bill of more than £200,000.
However, the business is in the process of being sold to a rival company, MCE Public Relations, the High Court in Belfast has been told.
The sale could protect the jobs of Stakeholder's five remaining staff.
Stakeholder was founded about 20 years ago by the political commentator and columnist, Tom Kelly.
Mr Kelly writes opinion pieces for the Irish News and is a former vice chairman of the Social Democratic and Labour Party (SDLP).
He also chaired the anti-Brexit "Northern Ireland Stronger In Europe" campaign during the EU referendum debate.
Stakeholder, which provided communications and event management consultancy services, has been in financial difficulty for some time.
It recently attempted to pay some of its debts by entering a Creditors Voluntary Arrangement (CVA), but the HMRC rejected its proposal.
HMRC brought a winding-up petition against the firm, which was granted by the High Court on Thursday afternoon.
The firm says it hopes the sale to MCE will be confirmed by next week.
Stakeholder said it was "Obviously not the pathway that we desired, but it is still MCE's intention to proceed with the purchase, with all staff transferring.
"Unfortunately we were hampered by having to deal with some historical but critical issues, which only came to light earlier this year.
"In an attempt to resolve these matters we explored several options including a very credible CVA which was accepted by all parties except one."
A liquidator has been appointed but the firm says Stakeholder staff "will continue to work on servicing clients" and that it hopes to make a "more positive announcement imminently".