Drugs: Casual users 'fuelling illicit profit'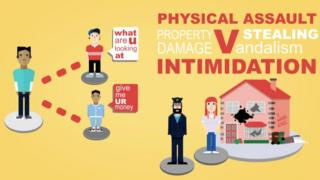 About 90% of the income from illicit drugs comes from recreational use, the Police Service of NI has said.
Det Ch Insp David Henderson said casual drug use in Northern Ireland facilitates crime gangs.
"Anybody who is buying drugs at the weekend is contributing to the violence and intimidation that is happening in our communities," he said.
He was speaking at the launch of an anti drugs campaign in Dublin. It will be rolled out in NI later this month.
"I didn't want an area that had an easier policing job."
Created by Safer Blanchardstown, and launched by the Gardaí (Irish Police) on Wednesday, the campaign links casual drug use with drug-related crime.
The initiative originated from a Dublin community group, but caught the attention of a PSNI inspector when he was on secondment in the area.
Det Chief Insp Henderson said the PSNI is dealing with the evolving nature of the drug gangs that do not recognise geographical borders.
"There are groups of drug gangs that work cross border - they work out of Dublin and supply drugs into Northern Ireland.
"We realised we cannot arrest our way out of the drug-gang problem."
He said he hopes the Think Before You Buy initiative will change attitudes in Northern Ireland.
PSNI Insp Jonny Francey discovered the scheme when he was on an exchange programme to the gardai in Blanchardstown last year.
"I wanted to go somewhere that was going to be a difficult area to police; somewhere where drugs are a problem so I could get experience, and bring that back with me," he said.
"Blanchardstown is a very mixed area; there are some extremely affluent areas in it, however, I did get to see areas such as Ballymun and Mulhuddart where there is quite a bit of social decay and problems related to drugs and drugs supply," he said.
Garda Insp Tony Twomey believes that the exchange schemes show that the two police forces have more in common than what differentiates them.
"You may think that because of the history of policing in Northern Ireland that things would be very different but the bread and butter issues on the ground are the same.
"We were well able to interlink and exchange ideas," he said.
It was at a community meeting where Inspector Francey came across the Safer Blanchardstown and local drugs taskforce teams which had carried out research into drug debt intimidation.
It is their campaign that will be rolled out by the PSNI in Northern Ireland.
"We are copying their project and bringing it north of the border," Insp Francey said.
Philip Jennings is an addiction councillor and the co-ordinator of Safer Blanchardstown.
He says the silence around drug abuse is feeding into stigma and fear.
"Last week, one man asked what he could do about his son.
"He just discovered that his son was spending all his earnings on weed, nothing else.
"The father didn't see it coming.
"It is very difficult to get people to speak openly."
Mr Jennings hopes the Think Before You Buy video will "start the conversation".
However, before it comes north the PSNI will be making one minor adjustment; it will get a fresh local accent.
PSNI Const Tom Phillips has just finished recording his voiceover for the piece.
He was selected to take part in the video because while working on his day-to-day duties in his station he would deliver announcements over the internal speaker system with his own "unique flare".
He said that "education is massively important" in making people realise the harm that is caused by recreational drug use.