Almac buys second facility in Republic of Ireland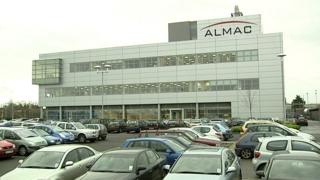 Craigavon-based pharmaceutical firm Almac has bought a second factory in the Republic of Ireland.
It has taken over BioClin Laboratories, which has a 14,000 sq ft (1,300 sq metre) facility in Athlone.
Earlier this year, Almac bought a 32,000 sq ft plant in Dundalk, County Louth, a deal which was a direct result of Brexit.
The firm said its customers required it to have a presence in the EU for regulatory reasons.
Almac owned another business in Athlone before Brexit and has made a substantial investment there to increase manufacturing capacity.
Stephen Barr, managing director of Almac Sciences, said the purchase of BioClin "means that we can broaden our service offerings and address our global clients' growing demands for a high quality, integrated, efficient service".
Almac is one of Northern Ireland's most successful firms, employing 5,000 people across its global operations.