Drug dealer's 'boy's toys' sold at auction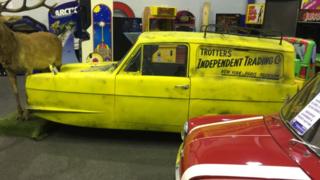 A life-sized Willy Wonka, a Terminator, and a gremlin - all previously owned by a drug dealer in England - were sold at auction in County Antrim on Thursday.
Thousands of pounds worth of silver screen collectables were seized by police in Wiltshire.
It followed a raid on a nuclear bunker which housed a giant cannabis farm.
Martin Fillery, from Bridgwater, was jailed for eight years in August for conspiracy to produce class-B drugs.
Some of the notable sales included:
Back to the Future 2 Screen Used BMW - £20,000
Batboat - £15,000
Starsky and Hutch Ford replica - £7,500
Only Fools and Horses Replica Van - £6,000
Terminator 2 Statue - £3,100
Mini-Me Statue - £1,200
Fillery had turned a nuclear bunker in Wiltshire into a drugs factory capable of producing £2m worth of cannabis a year, police said.
The 46-year-old was also a film fan and a keen collector of "boy's toys", including a Star Wars stormtrooper, Batman's speedboat, and the car driven by Biff in the film Back to the Future.
But when Fillery pleaded guilty to money laundering, his assets became subject to the proceeds of crime legislation.
That means they were seized and then sold at a Wilsons Auctions in Mallusk. The firm holds government auctions every month.
More than 150 items were up for auction, from a six-foot Iron Man which went for a solid £3,100 and a range of arcade games including Pac Man to a replica of Roland the Rat's car.
Auctioneer Aidan Larkin said the lots, including a Mini-Me from the Austin Powers films, have attracted worldwide interest.
"There's an element of the man cave but there are also a lot of serious movie props and collectors will want them as an investment.
"There's a lot of Star Wars props, and there's life-size Stormtrooper outfit officially licensed by the company that provided them for the movie.
"They all have the certificates and documents."
Alongside the ET and Ewok figures, the lot featured a number of cars - including one that has starred on the big screen.
"We've got the most interest so far in the Back to the Future car," said Mr Larkin
It was used by Biff in the film, and he famously had hover-boards attached to the back of it. It last changed hands for $25,000."
It was sold for £20,000.
But for some, the collectibles are just that - items for film buffs to keep in their house as a memento of their favourite film.
Mr Larkin said they received a lot of interest from hotels, bars and restaurants, but the "sharp end" of the bidding is normally from the global clientele.
"All of the money we raise goes back into the court and the public purse as part of the wider proceeds of crime case," he said.