James Corry jailed over IRA bombing of German Army base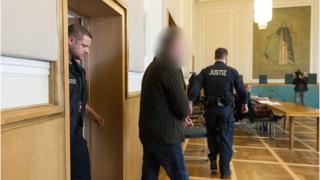 A man from Northern Ireland has been convicted of attempted murder more than 20 years after a Provisional IRA attack on a British Army base in Germany.
James Corry admitted helping to stage a mortar attack on the base in Osnabrueck in western Germany in 1996 - but said killing soldiers was not its main aim.
A court in Osnabrueck sentenced him to four years in jail on Wednesday.
One year will be waived because of an unlawful procedural delay, it said.
According to his confession, Corry, who was born in Belfast, drove a rented Ford Transit pick-up truck to a side entrance of the Quebec Army base at 18:15 on 28 June 1996.
He had already mounted a mortar rocket on the back of the truck.
He set a timer to trigger the detonation of three mortars after 35 minutes.
Two failed to go off and the third exploded near a petrol station in the Army base.
The court found that the man had been a member of a so-called "active service unit" of the Provisional IRA.
He, and at least four other accomplices, parked a truck with an improvised launch battery outside British barracks in Osnabrueck and fired three shells on 28 June 1996.
No one was injured, but significant damage was caused.
German authorities arrested Corry last December after his extradition from Ireland.