NI universities respond to Tory MP's Brexit inquiry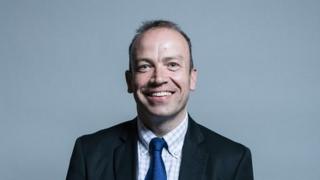 Ulster University (UU) and Queen's University (QUB) have both confirmed they are responding to a letter from a Conservative MP regarding staff who teach Brexit courses.
Chris Heaton-Harris wrote to UK universities asking for names of professors who taught courses on Brexit.
The MP for Daventry also asked for the content of the lectures to be provided.
His letter, written earlier in October, was published by The Guardian.
In it, he asked universities "to supply me with the names of professors at your establishment who are involved in the teaching of European affairs, with particular reference to Brexit".
"Furthermore, if I could be provided with a copy of the syllabus and links to the online lectures which relate to this area I would be much obliged," the letter continued.
Mr Heaton-Harris' letter has been criticised by some universities and the Conservative peer Lord Patten, who called it "idiotic and offensive".
Universities minister Jo Johnson said his colleague, a government whip, was regretting his decision, and "should probably not have sent" the letter.
He said the MP was "pursuing inquiries of his own" which may lead to a book on "the evolution of attitudes" to Europe rather than acting for the government.
But the Commons leader Andrea Leadsom insisted the letter was "a fairly courteous request".
QUB officials said they had responded to Mr Heaton-Harris "indicating that we have a number of academics engaged in undergraduate and postgraduate programmes in the broad areas of Politics and Law which cover various aspects of European Affairs".
Meanwhile, UU said a response was in the process of being drafted.
QUB has also confirmed its long-serving registrar and chief operating officer, James O'Kane, is to leave his post.
Mr O'Kane, who joined the university in 1994, is to retire in April 2018.