New plan for Belfast's Royal Exchange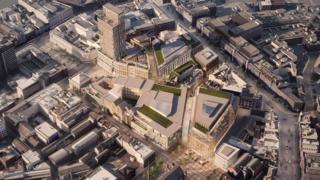 A new planning application has been submitted for a £400m redevelopment project in Belfast.
It aims to change what was first proposed on a 12-acre site around Royal Avenue formerly known as Royal Exchange.
When launched a decade ago, the project was focused on new retail space.
But Castlebrooke Investments, who acquired the site last year, now wants to have more offices, residential accommodation and two hotels.
It could take nine months before the application is heard by Belfast City Council.
The new application seeks to replace planning for the original scheme which was granted in 2012.
Part of the project, at Lower Garfield Street, has already started under the previous planning approval.
'Huge responsibility'
The project is the largest ever single redevelopment in Belfast city centre.
A spokesperson for Castlebrooke said: "We are conscious of the huge responsibility we face to regenerate this neglected part of Belfast and believe we have submitted a new plan that will move the city forward.
"More buildings will be preserved than the current planning permission requires."
The company said that the facades of 13-15 and 17-23 North Street would be retained.
The spokesperson said: "The Central Catholic Club, Central Halls and Masonic Hall will also be refurbished and throughout the scheme materials will be used which reflect the area's historic integrity."
The former Royal Exchange scheme was previously proposed as a possible site for a John Lewis department store.