Abortion: 'Hardship' travel grant for NI women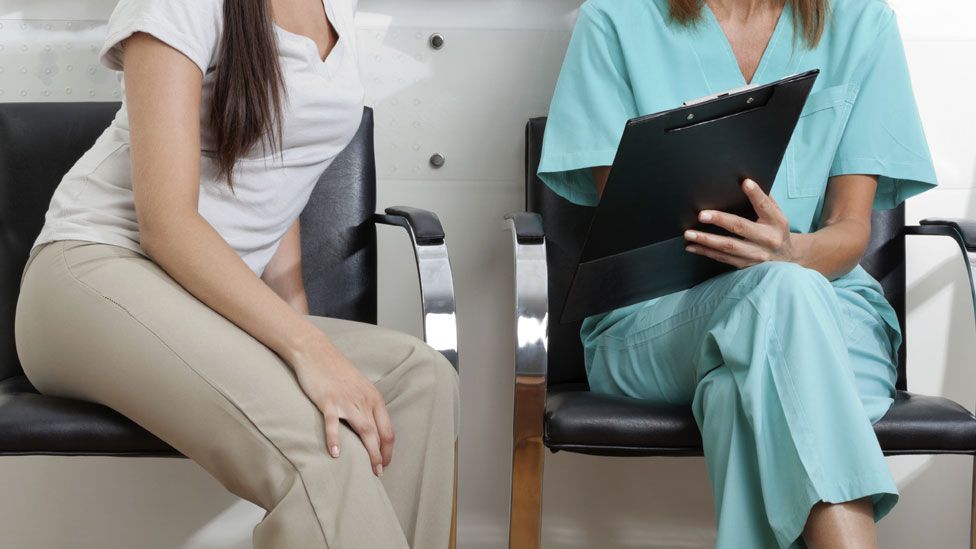 A government offer to help Northern Ireland women access free abortions in England is being extended to cover travel costs in some "hardship" cases.
Abortion remains illegal in Northern Ireland, except in very limited cases, and hundreds of women travel across the Irish Sea for terminations each year.
Anti-abortion campaigners said Monday's move was "anti-democratic disgrace".
She reiterated that the move does not change the ban on abortion in Northern Ireland, which remains a matter for the Northern Ireland Assembly to decide.
Under the plans, Northern Ireland patients would be entitled to opt for:
A consultation with an abortion provider in England
A free abortion procedure
HIV or sexually transmitted infection testing as appropriate;
An offer of contraception
Support with travel costs - if financial hardship criteria are met
Women on low incomes, in receipt of less than approximately £15,300 per year - will be eligible for support.
'Central booking service'
Since the change came into effect in June, England's three main abortion providers have not been charging Northern Ireland residents who undergo terminations.
Those clinics are set to be reimbursed for their expenses to date by the state.
The government has now invited English clinics to apply for funding under the new grant scheme, which will extend their services to patients travelling from Northern Ireland.
Ms Greening said: "The cost of this service will be met by the Government Equalities Office, with additional funding provided by HM Treasury."
As part of the grants process, one abortion provider will be chosen to run a "central booking service" which Ms Greening said would "simplify the process".
"It means that women from Northern Ireland will have a single telephone number to call and an appointment will be made with the most appropriate provider," the minister added.
The new system is expected to be in place before the end of this year.
'Extraordinary intervention'
The Right To Life organisation described the proposals as "a scandal and a disgrace on several levels".
It said it was an "extraordinary intervention by the UK government into the devolved affairs of Northern Ireland" and accused Ms Greening of a "shameful ministerial over-reach" without Parliamentary scrutiny or debate.
The organisation added: "Even more atrocious is the fact that it is low-income women who are being targeted by this policy, without any 'choice' given to such women of support given if they kept their baby.
"This leaves women who are the poorest and most vulnerable materially with the inducement to end the lives of their children in the womb, without giving any concurrent alternative of compassionate care."
The Christian Action Research and Education (CARE) group claimed the plan "significantly undermines the rule of law in Northern Ireland".
"The government should not overstretch its reach - it does not have a mandate to intervene in Northern Ireland; abortion is a devolved issue and should be decided by the Northern Ireland Assembly."
Pro-choice groups have also been reacting.
Emma Campbell from the Alliance for Choice said the organisation could "breathe a sigh of relief for the thousands of women and pregnant people that will now find it financially easier to access abortion treatment in England".
"We hope that this progress will not stop the push for true equality, when abortion seekers in Northern Ireland will no longer be exiled for healthcare," she added.
Labour MP Stella Creasy MP said it was a "step forward" in addressing "injustice".
She added: "We also pledge to keep standing with them until they have equal access to abortion services in Northern Ireland itself.
"Our sisters need to have their human rights to be upheld and we won't give up until they have so."
Britain's 1967 Abortion Act was never extended to Northern Ireland and its abortion laws remain much stricter than the rest of the UK.
Abortions are only allowed in Northern Ireland if a woman's life is at risk or there is a permanent or serious risk to her physical or mental health.
Cases of rape, incest and fatal foetal abnormalities are not considered grounds for a legal abortion.
A fatal foetal abnormality diagnosis means doctors believe an unborn child has a terminal condition and will die in the womb or shortly after birth.
Days before the debate, the DUP asked the Northern Ireland health minister to set up a working group to look at how the issue of fatal foetal abnormality could be addressed.
The working group met for the first time in July 2016, but within seven months, the Northern Ireland Assembly collapsed over a green energy scandal.
Stormont has been without a devolved government for 10 months and the parties have been warned they face greater intervention from Westminster if they cannot agree a power-sharing deal.