Belfast Health Trust savings plans 'no longer needed'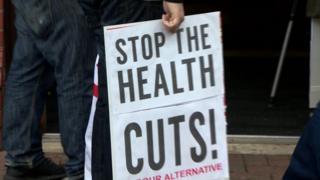 All but one of the Belfast Health and Social Care Trust's proposed savings plans can be stood down after it was given more funding, it has said.
The trust benefitted from an extra £10m allocated to the Department of Health this week.
Reductions in staff and hospital beds - as well as deferring access to new patients for fertility treatment - are no longer needed, the trust has said.
But it is proposing cost-saving in another area of healthcare.
The trust has said it could substitute expensive drug treatments for clinically suitable alternatives that cost less money.
Northern Ireland's five health trusts had been told to make savings of £70m, and a public consultation was held about what services would close.
But it was announced on Wednesday that an extra £40m would be handed to the health service, as part of a reallocation of funding between Stormont departments.
That funding will be used to address "inescapable" cost pressures and tackle hospital waiting lists.
Savings of £30m still have to be made and public meetings arranged by the health trusts about the cuts went ahead on Friday.
About 100 healthcare workers and trade unionists protested at Knockbracken Hall, where the Belfast Health and Social Care Trust held its meeting.
The consultation over the original proposal of £70m of cuts had been "highly damaging" for both patients and healthcare staff, according to Patricia McKeown of the Unison trade union.
"It was irresponsible six weeks ago to cause fear and widespread anxiety and stress across Northern Ireland," she added.