Man denies link to bomb under policeman's car in Eglinton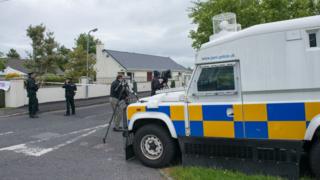 A County Armagh man has pleaded not guilty of trying to kill an off-duty police officer with an under-car bomb.
Sean McVeigh, 36, of Victoria Street in Lurgan, is to stand trial next year.
He appeared at Belfast Crown Court on two charges connected to the murder bid in Eglinton in County Londonderry on 18 June 2015.
As well as the attempted murder charge, he is also accused of possession of a bomb with intent to endanger life.
Mr McVeigh's lawyer told the court that he intended to retain the services of two experts, one in New Zealand who specialises in DNA testing, and one in England.
He said the expert from England would be examining vehicle recognition material held by the prosecution in relation to the Eglinton area.
The lawyer said he envisages that the expert may have to travel to Northern Ireland for a "site inspection".
'Banged on window'
The court heard that the non-jury Diplock trial is expected to last for up to four weeks given the large number of witnesses to be called.
The defence lawyer said there was no application for bail, but added that "that should not be seen as an indication of defeat on the issue" between now and the trial.
The judge set the trial date for 15 January 2018, with the case to be reviewed at the end of November.
At the time of the incident, police blamed dissident republicans for the murder attempt.
A senior police commander said the officer's wife disturbed a man trying to place the bomb under his vehicle, which was parked in the driveway of the family home.
He revealed that she "banged on the bedroom window'' as the man was putting the device underneath the car.
Mr McVeigh was arrested in in May 2016.