Lack of space for post-primary pupils to sit transfer test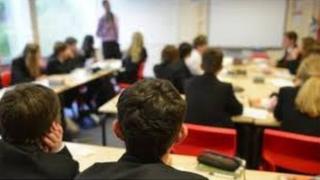 There has been a 5% rise in the number of entrants to the two post-primary transfer tests this year, the BBC has learned.
However one of the examination bodies, AQE, has said that more children want to sit their test than there is space in schools to accommodate them.
As a result, six pupils from Lisburn may have to sit three AQE tests at a school in Dungannon.
AQE has said every registered pupil will be able to sit the tests.
The joint chief executive of AQE, Stephen Connelly said they had 8,100 entrants but only 7,990 available places in the 34 grammar schools who host AQE tests.
Therefore the testing organisation has opened an additional test centre in Bangor that can accommodate 120 pupils.
"We have more children who have registered to do the AQE assessments than we actually have places within our assessment centre schools," he said.
"That problem is exacerbated because the discrepancy is not evenly spread.
"There are particular pinch points where some of our member schools are seriously over-subscribed."
Mr Connelly said there were particular pressures in north Down, greater Belfast and Lisburn.
Six pupils in Lisburn, for example, may have to travel to Dungannon to sit the three tests, which begin on Saturday, 11 November.
"We have been looking at every possibility we can," Mr Connelly said.
"There are also many children across the province who are going to be travelling further than Lisburn to Dungannon.
"It's not a situation that any of us would willingly entertain, but we're faced sometimes with limits on places and resources."
P7 pupils can opt to sit either exam, both GL and AQE, or none.
However, some of Northern Ireland's 66 grammar schools accept results from both tests.
According to figures provided by the two testing organisations, the number of entrants has risen in 2017/18.
Around 8,100 pupils have entered this year's AQE exam, up from 7,725 in 2016.
The Post Primary Transfer Consortium (PPTC) said that 7,255 pupils have applied to sit the GL Assessment test this year, compared to 6,851 in 2016.
It is estimated that about 2,000 pupils sit both tests.
This year 119 pupils have also entered the Irish language version of the PPTC test, up from 100 in 2016.
Talks between the two testing organisations have been taking place to see if a single test can be created.
Stephen Connelly said that those discussions were ongoing and had been constructive.
"We're looking at all kinds of options," he said.
"But I'm not sure I'd want to quantify the progress just yet because to do so may raise expectations and it may only signal something I don't want to signal."