'Lone-wolf dissident' Christine Connor to appeal conviction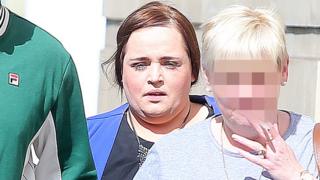 A woman described as a lone-wolf dissident republican who was jailed for trying to murder police officers has started a bid to clear her name.
Christine Connor, 31, was convicted in May over a terrorist plot in which she posed as a Swedish model to lure men into supporting her attempt to kill.
She intends to appeal, arguing that her pleas should not have been accepted.
Her solicitor said the pleas were equivocal, and judges are set to review the case at Belfast's Court of Appeal.
Connor's solicitor said the case was a "unique" one.
'War with police'
"An equivocal plea is one qualified by words which, if true, indicate that the accused is in fact not guilty of the offence charged," he said.
"In this unique case, our client told the Crown Court: 'I am not guilty, but on advice I will plead guilty.'
"This plea should not have been received by the learned trial judge but instead vacated on application."
Connor, from north Belfast, is also set to appeal the 16-year jail sentence she was given in June, arguing that it was excessive.
She had claimed to be "at war" with the Police Service of Northern Ireland (PSNI) and pleaded guilty to a number of terrorist offences.
Some of those related to homemade grenade attacks on police in Belfast in May 2013, one of which left a policeman injured.
Her trial heard that she had made hoax 999 calls to lure police to the area, claiming that a woman was in danger.
'Her terrorist aspirations'
Police said Connor was not aligned to any dissident republican organisations and had acted alone.
They also said she had exploited two men to "become involved in her terrorist aspirations", both of whom later took their own lives.
Her efforts to dupe them included using online photographs of a Swedish model and creating a fake social media profile, detectives said.
Her solicitor has also said that Connor has complained to the Police Ombudsman about the PSNI's decision to release exhibits from the case to the media.
"This is highly unusual and a clear breach of our client's human rights," he claimed.