Sally-Anne Jones 'nun with a gun' picture's novel origin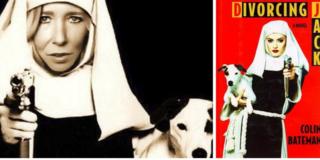 It's the image that turned Sally-Anne Jones, the British recruiter for the so-called Islamic State, into the "nun with the gun".
It appears to show Jones wearing a nun's habit, with a gun in one hand and a dog in the other.
The bizarre picture has been reproduced and widely shared on Thursday after the news of Jones' reported death in Syria; it even features on the front page of The Sun.
The only problem? It isn't real - and its origins link back to the debut novel of Northern Ireland writer Colin Bateman in 1995.
The original image, featuring a nun posing with a gun and a dog, was used on the front cover of his first book Divorcing Jack.
The edited version, which is in black and white and has Jones' face superimposed on to the nun's body, is thought to have been mocked up by others before being used on her Twitter account.
'Weird and surreal'
Bateman, who is from Bangor, County Down, has previously posted on social media referring to the image being published in newspapers and on websites.
He told BBC News NI it was "weird and surreal" to see it used once again following the reported death of Jones, a former punk musician.
"As I understand it, she was a bit of a punk rocker from the Midlands and I grew up into punk rock myself," he said.
"Then, out of nowhere, seemingly, she selected this image from Divorcing Jack and was using it to recruit people to Islamic State, to terrorism."
Bateman is no stranger to terrorism in his writing - the plot of Divorcing Jack features the Northern Ireland peace process and history of The Troubles.
He also wrote the screenplay for 2016 film The Journey, which looked at the friendship between Martin McGuinness and Ian Paisley.
However, he said it was particularly strange to find these themes echoed back in real life.
"The image has certainly be taken out of context," he said. "My books do have terrorism in them, but it's treated in a certain way and it's fiction."
"To find it used in a conflict that is factual and true is very weird.
"It puts a shiver up your spine to know that an image I had come up with is being used in this way."
The author added that he believed the media using Jones' edited nun image were not aware of its origins.
"To my knowledge, it has never really been acknowledged by newspapers that the image came from a novel that came out 22 years ago.
"It was in the first edition so it's not used on the front cover any longer.
"Most of the people in newspapers would have no idea where it came from at this point," added Bateman.
"Even publishers probably wouldn't even realise."
He said he would now like to "reclaim" the image following Jones' reported death.
"I wouldn't say it has done me any harm or any good," he said.
"But there's now a long association between the book and and this image and a lot of people who have read the book would know about it.
"I would like that when I see the image in future it would be in reference to where it came from."