Belfast woman 'cried tears of joy' over IVF announcement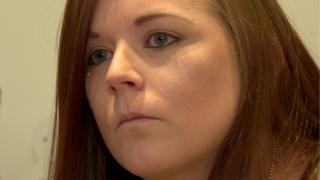 A Belfast woman cried tears of joy when she was told plans to temporarily halt fertility treatment in Northern Ireland had been suspended.
It follows Wednesday's announcement an extra £40m is to be allocated to the Department of Health, which will reduce the impact of proposed health cuts.
Della McGill and her partner are among hundreds of NI couples waiting for IVF.
Last month, they told the BBC they were "heartbroken" when the Belfast Health Trust announced the temporary halt.
The pause in fertility treatment was just part of a raft of cost-cutting proposals across the trust's services.
When the cuts were announced, Ms McGill and her partner blamed the political deadlock at Stormont for delaying their chances of having a family.
They had been due to begin IVF treatment early next year, but their plans were thrown into doubt by the suspension.
However, when the additional £40m was confirmed this week, the trust told told the couple that the proposal to cut fertility treatment was now off the table.
"I was over the moon. I cried," Ms McGill told BBC News NI.
"I just couldn't believe that we've got a bit of hope back."
However, she said the uncertainty of the last few weeks had added to the stress experienced, not just by her, but "so many people who had been affected by the proposed cuts".
While the most controversial of the proposed health service cutbacks are now suspended, the Department of Health said it had not yet factored in the potential implications of the pay award for staff.
That would cost an additional £26m.