Health and education departments to get funding boost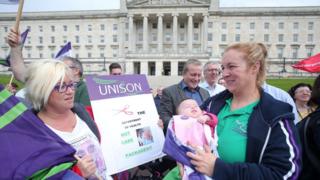 Health and education are to benefit from the reallocation of money across Stormont departments.
The move was announced by the Department of Finance, as part of a reallocation exercise known as a monitoring round.
The health service has been given an additional £40m of funding that will be used to address "inescapable" cost pressures and tackle waiting lists.
The education department gets £10m and the Department of the Economy gets £1m.
The five health and social care trusts had been told they had to make savings of £70m.
A public consultation into which services could be cut closed last week.
It is understood that draft savings plans into the remaining £30m of cuts are still to be considered at trust board meetings on Friday.
The Belfast Health and Social Care Trust said the additional £40m announced by the Department of Finance will allow it to stand down almost all of its major and controversial proposals.
The Department of Health said the money is hugely welcomed and will help towards reducing the amount of savings needed.
But in a statement a spokesperson said the financial issues it faces this year will only "grow in intensity as we move forward".
Avoid adverse impact
The Department for Infrastructure gets an additional £11.2m in capital spending in the funding reallocation, mainly to repair damage caused by flooding in the north-west last month.
That department also gets an extra £3m for day-to-day spending.
The Department of Finance said the reallocation of funds was in line with the powers granted to the department's permanent secretary under the Northern Ireland Act.
The proposed allocations will need to be reflected in a Budget Bill, whether it is passed by a new Northern Ireland Executive or a direct rule minister at Westminster.
The departments are being told of the proposed allocations now to avoid any adverse impact on services.
Stormont has not passed a budget for this financial year due to the collapse of the executive in January, so civil servants have been operating emergency procedures.
Last month, the Northern Ireland secretary warned that time was running out for the parties to reach an agreement.
"If this does not happen within a short number of weeks, we risk greater political decision-making from Westminster, starting with provision for a 2017-18 budget this autumn," said James Brokenshire.