Father posts video of Glengormley High School bullying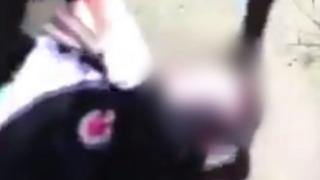 A father has posted footage of his 12-year-old son being hit in a school playground on social media.
Craig McCombe told the BBC he had taken the action as Glengormley High School had failed to deal adequately with allegations his son had been bullied.
The BBC has contacted Glengormley High School through the Education Authority, but the school has not yet responded.
The Education and Training Inspectorate (ETI) had previously raised concerns about pupils' safety in the school.
Mr McCombe, from Newtownabbey in County Antrim, said a school playground fight last Friday lunchtime was filmed on pupil's mobile phone.
In the footage, Mr McCombe's son is seen being hit by another pupil while being held on the ground.
'They told me my son was safe'
Mr McCombe said his daughter, who is also a pupil at the school, had obtained the video that afternoon as pupils had shared it on social media.
"When I saw the video I got dead upset because my son was lying on the ground being punched," he said.
He said he then had a meeting with a senior school staff member on Friday afternoon at which he was told the school would deal with the incident on Monday.
He also contacted the police but, after speaking to officers, told them he would prefer that the school dealt with the matter.
Mr McCombe said the school told him on Monday that the other pupil in the video would be put in a unit on his own for a week, but he said that had not happened.
"They told me my son was safe," he said.
"They told me the other wee boy would be in the centre for a week, but they sent him back into the normal school the next (school) day.
"He was only back into normal school and he hit my son again."
'Punched on the back of the head'
Mr McCombe claims his son was punched in a school corridor on Monday by the same pupil featured in the video.
He said that his daughter had again told him about the alleged incident.
"The school should have rung me or his mother and told us he was hit again," he said.
"My son was punched on the back of the head three or four times."
Mr McCombe claims that led him to share the footage of Friday's incident on social media.
"I sat down on my own and thought and thought and thought before I put that video on Facebook," he said.
"If this video had never come about, the school would have got away with not dealing with it.
"I've nothing against the video, I'm glad it's out.
"I'm highlighting this before somebody's child gets seriously injured."
Mr McCombe has temporarily withdrawn his two children from the school, and said he wanted Glengormley High School to deal with incidents of bullying more seriously.
"I honestly don't know what I'm going to do," he said.
"What worries me is what's going on in my son's head.
"Bullying is a mental thing - it might not bruise but it's in your head."
Safety issues raised
Glengormley High School was the subject of an Education and Training Inspectorate (ETI) report published in May 2017.
"In discussions with the inspectors, a significant minority of the pupils reported that they do not always feel safe in the school," said the ETI.
"Furthermore, while they are aware what to do if they have any concerns about their safety or welfare, they are not always confident that issues raised will be resolved."
In a statement to the BBC, the PSNI said it had "received reports of two assaults on a 12-year-old boy at a school in Glengormley on Friday 6 and Monday 10 October".