Ex-UVF man Haggarty's murder evidence 'insufficient'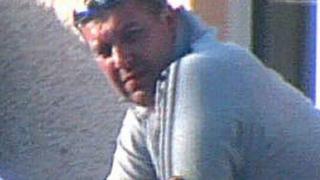 Evidence from a loyalist supergrass will not be used against 11 paramilitaries and two police officers he accused of involvement in murders.
Former Ulster Volunteer Force (UVF) commander Gary Haggarty has admitted 202 offences, including five murders.
He agreed to become an assisting offender, naming others whom he alleged were involved in his crimes.
But the Public Prosecution Service said his evidence is insufficient to prove the claims beyond reasonable doubt.
Its director Barra McGrory QC said: "Where he has provided information implicating another, there must be sufficient corroborating evidence to support the allegations for a case to meet the test for prosecution."
'Deeply disappointing'
A decision has yet to be made about whether to use Haggarty's evidence against three UVF members he accused of involvement in three murders.
Mr McGrory said he acknowledged his announcement would be "deeply disappointing" for the families of the murder victims.
"I understand this will not just be because of the disappointment or anger they may feel about the decisions, but also because today is another day where they will be revisiting the pain of events from many years ago," he said.
Mr McGrory has written to each of the families and their lawyers to explain the decision.
1,000 police interviews
Prosecutors had received files relating to four UVF murders based on information provided by Haggarty.
In June, he pleaded guilty to a lengthy list of serious changes, including murders, attempted murders, kidnappings and false imprisonments.
He was given five life sentences for the murders, but his agreement to act as an assisting offender will see those terms significantly reduced.
All of the killings, and the majority of the other offences, took place while Haggarty was working as a police informer.
Haggarty signed an agreement to become an assisting offender under the Serious Organised Crime and Police Act.
He was interviewed by detectives more than 1,000 times and the information he gave them ran beyond 12,000 pages.
'False promises'
One of the cases in which Haggarty offered to give evidence was the shooting dead of Catholic taxi driver Gerald Brady in 1994.
Mr Brady's sister Jackie Larkin described the decision not to use Haggarty's evidence as a "major setback" for her family, saying that she does not have faith in the judicial system.
"It's a constant barrage of false promises, false reports, different investigations, and nobody is going to answer for this," she added.
Padraig Ó Muirigh, a lawyer for some of the victims' families, said it had not come as a surprise to those he represents.
He added: "They had hoped that this might lead to some positive conclusion, however that's been taken away from them."
Haggarty will return to court this month to find out how long her will serve for the crimes he admitted.
---
What is a supergrass?
The police bristle at the very mention of the word supergrass because of its association with a series of high-profile trials in the 1980s.
Hundreds of republicans and loyalists were convicted on the word of informers and suspects who agreed to give evidence in return for reduced sentences, new identities and lives outside Northern Ireland.
Those deals were done at a political level, with the details kept secret.
Technically, those individuals were assisting offenders but they became known as "touts" and "supergrasses" in communities.
The system collapsed in 1985 because of concerns about the credibility of the evidence provided by the supergrasses.
Members of the judiciary complained that they were being used as political tools to implement government security policy.
A change in law in 2005 implemented safeguards for trials of that kind.