Paper Review: Speaker row, Star Wars and a pet blessing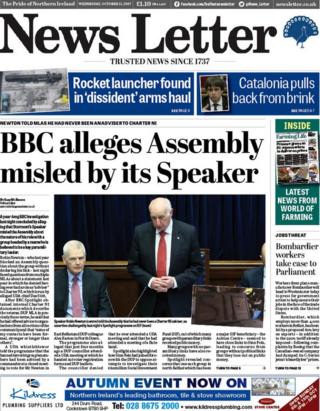 All the front pages sing from the same hymn sheet this morning.
They focus on a BBC Spotlight investigation into Stormont speaker Robin Newton's role with a UDA-linked community organisation.
The programme alleged documents reveal the East Belfast DUP MLA has had a role with the group Charter NI that he has not declared to the Northern Ireland Assembly.
The Irish News says "pressure is growing" on the speaker.
The Belfast Telegraph goes with "Speaker misled MLAs on role in Charter NI," while the News Letter says "BBC alleges Assembly misled by its Speaker".
In a statement, Mr Newton told Spotlight that he has worked with and offered advice to all sections of the east Belfast community, including community organisations.
He said that some of his contacts have been formal, stronger or longer than others.
The Belfast Telegraph's front page also covers the tragic subject of miscarriage.
Eilish Telford tells the paper she was 18 weeks pregnant when her baby Cara was "born sleeping".
Now the County Tyrone woman is fundraising so that every hospital in Northern Ireland has "cuddle cots" available for mothers of stillborn children.
"Thousands of women go through miscarriage and stillbirth in Northern Ireland every year, and I want to make sure they spend as much time with their babies as possible," she said.
Cuddle cots are cooling baskets which allow parents to keep miscarried or stillborn babies with them for two to three days.
The Southern Trust said there are five cuddle cots at Craigavon Area Hospital and there are plans to introduce more.
All creatures great and small
There's some great news for church-going animal lovers.
All the papers report that the flock of St Anne's Cathedral is expanding beyond two-legged creatures, with its first pets' service.
At the service on Sunday, inspired by St Francis of Assisi, each pet will received a blessing.
However, Rev Canon Mark Niblock isn't just thinking of the cute furries. "My fear is if someone has tarantulas or snakes," he said.
"I might pass them on to someone else," he added. There will of course be water bowls, and mops and buckets for thirsty pooches and muddy paws.
May the force be with you
The News Letter reports that a Belfast actor who had given up hope of "journeying to a galaxy far far away," is to star in the next Star Wars movie.
Jonathan Harden didn't make the cut for the first of the newest Star Wars movies but found out in 2015 that he had got a part in The Last Jedi.
However, the actor admits to the paper that he's not a super fan. "I was really glad I was not a huge fan, otherwise I wouldn't have been able to cope on set".
The Belfast born actor is the second Northern Ireland man to appear in the movie franchise. Ian McIlhinney beat him to it in The Force Awakens.
He tells the papers about meeting some of the movie's stars on set, including the late Carrie Fisher, who played Princess Leia.
"She was there with her dog Gary. It is so sad what happened but I think she is going to feature heavily in this film and will also be in the next one through the magic of CGI'
The Last Jedi is due in cinemas in December.
Most parents are proud of their children, but it seems James McClean's have good reason.
The Irish News has an interview with the West Brom midfielder's father. Patrick McClean said he nearly "went through the widow" during Sunday's Republic of Ireland match against Wales
McClean, from Londonderry rifled in the only goal at Cardiff City Stadium.
Mr McClean snr said he went up to the screen after the goal and "did a merry gig".
He told the paper he had become an unexpected star himself after the goal with strangers asking for selfies with him.