Charter NI: Speaker is alleged to have misled NI Assembly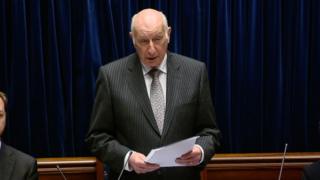 Speaker Robin Newton is alleged to have misled the Northern Ireland Assembly about the true nature of his role with a UDA-linked community organisation.
The allegation was made in a BBC Spotlight programme on Tuesday night.
It revealed that the East Belfast DUP MLA has had a role with the group Charter NI that he has not declared.
He had that role at the same time as he sat on steering group that awarded Charter NI the management contract for a £1.7m employability scheme.
That came from Stormont's Social Investment Fund (SIF).
Charter NI also received a £226,000 fee for the work.
Mr Newton remains the Speaker of the Northern Ireland Assembly, despite Stormont not being operational.
Last October, he blocked an Assembly question about Charter NI amid public concern the group was receiving Stormont Social Investment Fund money, while its CEO Dee Stitt continued to have links to the UDA.
Soon after this, it emerged that Charter NI's Facebook site referred to Mr Newton as the group's adviser - a relationship the speaker had not mentioned when blocking the question about the group.
He had to explain this to the assembly.
In a statement to MLAs last November, Mr Newton told them he was not an adviser to the community organisation.
He said: "I make it clear that, while I have offered advice, I do not hold and have never held a position as adviser to Charter NI.
"My involvement with Charter NI, as an organisation working on the ground in my constituency, has been no different than it would be with any organisation in my constituency seeking advice from their elected representative."
However, Spotlight obtained copies of Charter NI internal documents - including its board minutes - stretching back many years, and repeatedly they refer to Mr Newton as an adviser to the group.
The paperwork reveals that the DUP MLA had an important role in helping to run Charter NI, including attending full board meetings from mid-2012.
One set of minutes say that, as an adviser, he helped to "steer" the board and did "more than just go to the board meetings".
Documents also confirm he sat on Charter NI sub-committees, had a role in planning strategy, headhunted board members, and had extensive involvement in lobbying funders on Charter's behalf.
SDLP MLA Nichola Mallon said the picture now emerging of Mr Newton's role in Charter NI is at odds with what he told the assembly late last year.
She said: "The speaker outlined a role that was very passive and didn't in any way indicate the length or breadth of activity that you have shared with me.
"Therefore, it leads you to ask the question, why was the speaker not up front when he had the opportunity to do so in front of all of his MLA colleagues?"
Former Alliance leader David Ford said that if the MLA has been directly involved with the board of an organisation which receives public money and had not declared it, "then I think that would be a very significant breach of the rules which MLAs are bound by".
"It would then be something which would have to be investigated by the Commissioner for Standards," he added.
'Offered advice'
In a statement, Mr Newton told Spotlight that he has worked with and offered advice to all sections of the east Belfast community, including community organisations.
He said that some of his contacts have been formal, stronger or longer than others.
Spotlight asked him why he had not declared his full role in Charter NI to the assembly, but he did not directly address this question.
Charter NI is one of a number of community groups, with employees or ex-employees linked to the UDA, that were selected by the DUP and Sinn Féin for a role in the Social Investment Fund (SIF), leading to these organisations receiving significant sums of public money.
Favoured groups
The Spotlight programme focused on claims the DUP and Sinn Féin used some of the £80m fund (which is set to cost £93m by 2020) for community groups they favour.
It will also reveal new information about some DUP members' alleged associations with members of the UDA and UDA linked community groups.
In a statement to Spotlight, the Executive Office said: "Appropriate governance procedures are in place to ensure the programme is delivered and managed effectively."
The DUP said its party "does not support or endorse paramilitary activity of any kind".
"There is no place for any paramilitary organisation in our society," it added.
Sinn Féin said its party "stands over the enormously successful SIF projects that are being delivered in the communities we represent".