BMA wants more NI doctors from non-grammar schools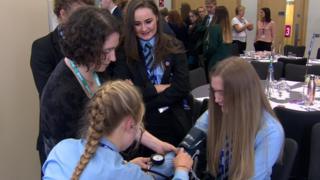 The British Medical Association (BMA) has said it wants to encourage more students from non-selective schools in Northern Ireland to become doctors.
As part of the initiative, more than 100 pupils met doctors and medical students at a BMA event in Belfast.
Most of the pupils who attended to learn more about the path to a medical career were from non-grammar schools.
A recent study found that more than nine in 10 medical students in Northern Ireland were ex-grammar school pupils.
The Fair Access to Medicine? study was published in 2016 in the BMC Medical Education journal.
It found that from 2009-2012, 92% of Northern Ireland students who were offered a place to study medicine at university had been educated at grammar schools.
Additionally, more than 50% of them came from the most affluent socio-economic backgrounds.
It is understood that figure has not changed significantly in subsequent years.
At the BMA event in Queen's University, Belfast, pupils from 14 post-primary schools were mentored by doctors and medical students.
The pupils also took part in practical medical demonstrations such as measuring blood pressure, using a defibrilator and using a dermascope and microscope.
Teigan McKee, from Shimna Integrated College in Newcastle, County Down, was dressed up in surgical scrubs, and said the event had made her determined to be a doctor.
"I could maybe actually do it, so it's made me more motivated to work hard and become a doctor," she said.
"I find it really interesting that you're given a patient and have to find out what's wrong with them - it's about problem solving."
Emma Spence from Omagh High School in County Tyrone had similar thoughts.
"I like to help people," she said.
"You go into a hospital and see ill people and see people being cured and helped."
"I'd like to be someone who could cure someone's sickness."
Gaining a place at university to study medicine can be tough.
Many university medical schools ask for straight A-grades at A-level, and a BMA report in 2015 found that there were more than 11 applicants for every place.
But should it matter which school or social background students come from?
The chair of BMA Northern Ireland's medical students committee, Molly Kerr, is also a fifth year medical student at Queen's University,
She said that the medical profession needed to be more representative of the society it served.
"We're living in an ever-evolving population," she said.
"We have a very diverse patient cohort to deal with and it's important that doctors, medical students and healthcare professionals reflect that.
"Patients like to be able to talk to someone they can relate to, so having a diverse range represented in healthcare is important."
The Northern Ireland event was held as part of a UK-wide initiative by the BMA to encourage pupils from all social and economic backgrounds to consider a career in medicine.