Belfast Pride: Woman questioned over anti-DUP sign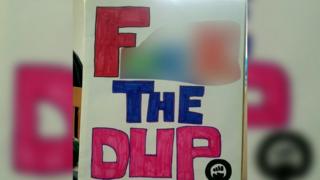 A woman who carried an anti-Democratic Unionist Party (DUP) placard at this year's Belfast Pride march has been interviewed by police.
Warning: explicit language
Ellie Evans, 24, has accused the Police Service of Northern Ireland (PSNI) of being heavy-handed in its response to a complaint made by a DUP MLA.
The poster, which said "Fuck the DUP", was confiscated by organisers on the day of the parade in August.
They said it breached rules set out by the Parades Commission, a body that monitors and can place restrictions on parades in Northern Ireland.
Last week, police arrived at Ms Evans' door.
"I think they did it to intimidate me because there's no reason that it couldn't have been a letter if they had my address," she said.
"Also, it was a voluntary interview - there's no need to show up in person.
"It's not very nice to have them turn up on your doorstep."
'Draws impartiality into doubt'
The DUP MLA Jim Wells, who made the complaint about the placard, said he is pleased that police have responded to his concerns.
"I was approached by people who were watching the parade who were deeply offended by the message contained on the placard," said Mr Wells.
"There's absolutely no place for that type of language to be aimed at Northern Ireland's largest political party."
But he added that the PSNI's participation in the parade "does draw into doubt" its ability to "investigate this particular complaint impartially".
Ms Evans said she feels that the complaint was a waste of police resources.
"I think it's inappropriately heavy-handed to show up at my house and call me in for questioning," she added.
"I think it's a waste of time, especially given what goes on on the 12th [of July Orange Order parades].
"I'm sure they don't have time to interview everyone about things which are burned on bonfires."
'Not a protected class'
Asked if she accepted that the message was offensive to the DUP, she said: "I understand that, but I think the offence is misdirected.
"We don't value love between same sex couples in the same way and, to me, that's highly offensive."
The director of the Rainbow Project, a gay and lesbian support group, said he wants to know why the PSNI took the action it did.
"I think it's important we understand what the expectation is of what could happen, whether it's being viewed as a criminal act and under what law," said John O'Doherty.
"In my opinion it's not a hate crime because the DUP is not a protected class."
The PSNI said it would be inappropriate to comment while its investigation in continuing.