Belfast's Odyssey Pavilion set for £10m refurbishment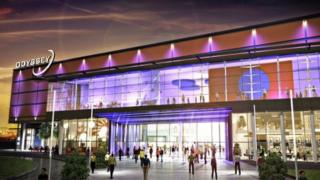 Belfast's Odyssey Pavilion entertainment complex is to undergo a £10m refurbishment.
The Pavilion opened in 2000 but the company that controlled it was placed into administration in 2010.
It was a difficult asset to sell and suffered from a lack of investment during the lengthy period of administration.
It is finally under new ownership, a consortium of investors who have lodged two planning applications.
One of the applications is for a new main entrance to the Pavilion, an upgrade of public realm and a reconfiguration of the existing retail units.
Phase two of the redevelopment is for further improvements, including greater use of the central open space and better access to the adjoining SSE Arena.
Guy Hollis, of the investors' company Matagorda 2 Ltd, said: "Our key objective is to improve the overall visual quality and tenant offering of the Pavilion, making it a more attractive and user-friendly destination."
Wendy Langhan of the Odyssey Trust Company said: "For some years, the Odyssey Pavilion has suffered from underinvestment in comparison to W5 and the SSE Arena.
"It is now very heartening to see the new owner make a strong long-term commitment to what is an extremely important asset for Belfast."