Bombardier: Tory government accused over jobs 'inaction'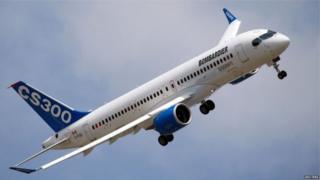 The Labour Party has accused the government of "inaction" over potential job losses at Bombardier in Belfast.
Rebecca Long-Bailey said a tariff imposed by the US Department of Commerce would have "catastrophic ramifications".
A government spokesperson said it will continue to "strongly defend our interests in support of Bombardier".
It is understood Prime Minister Theresa May spoke to US President Donald Trump on Tuesday.
The pair discussed the the importance of Bombardier jobs to Northern Ireland.
The wings for Bombardier's C-Series jet are made in Belfast.
On Friday, the US government imposed an import tax of 80% on the jets, on top of a 220% tariff already set.
US rival Boeing has alleged that Bombardier, a Canadian firm, is trying to sell its C-Series jets below cost price in the US, after taking state subsidies from the UK and Canadian governments.
Bombardier employs more than 4,000 people in Northern Ireland - and is one of its biggest private sector employers.
The shadow business secretary, Mrs Long-Bailey, said politics was being prioritised over workers' welfare.
She said she feared Bombardier and its workers "are considered a fair price to pay for a post-Brexit trade deal with President Trump by this Conservative government".
Business Secretary Greg Clark said that the government had been "assiduous in working with the government of Canada in our response".
"We have had intensive engagement from across government at the highest levels.
"The prime minister has discussed the matter twice with President Trump, stressing the crucial importance of Bombardier's operations in Belfast and to ask the US government to do all it can to encourage Boeing to drop its complaint."
He also told the House of Commons he understood the worry felt by the workforce because of the trade dispute with Boeing.
He told MPs he would "not relent until the jobs are saved".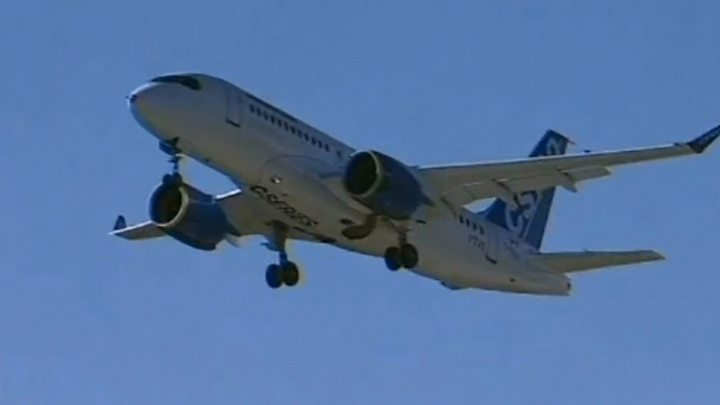 He said the government "strongly disagreed " with the US ruling and would "vigorously and robustly defend " the interests of Bombardier.
The East Belfast DUP MP, Gavin Robinson, whose constituency includes the Bombardier site, said he greatly appreciated the efforts of politicians in other parties for their assistance in the dispute.
He said he was "deeply disappointed " by comments made last week by the US Commerce Secretary, Wilbur Ross.
Mr Ross said the decision in favour of Boeing affirmed President Trump's "America First" policy.
DUP MP Nigel Dodds told MPs the entire house should "unite behind the workforce".
The Independent MP Lady Hermon wanted to know how effective diplomatic efforts had been to try and overturn the ruling and secure jobs in Belfast.
The North Antrim DUP MP Ian Paisley warned that "crunch time " was coming and he urged the government not to be "found wanting in defending British workers ".