Marcell Seeley murder: 'My dad has been stolen from me'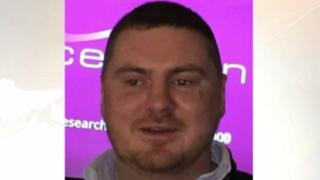 The teenage daughter of a man who was beaten to death at his home in Lurgan has said her father was "stolen from her".
Marcell Seeley, 34, was beaten to death in his County Armagh home in October 2015.
His killer, Mark Ward, has been sentenced to at least 16 years in prison for the killing.
In a victim impact statement, Mr Seeley's daughter said his death had had "a devastating" impact on her life.
She was 15 years old when her father was killed.
"For the longest time, I pretended it wasn't true," she said.
"I never got to say goodbye to him. His coffin was closed due to the brutality of his death."
She said her dad was "an amazing cook" and her "favourite comedian".
'Different person now'
"All that is gone now. All I have in its place are the memories of our life we shared and the bond we had," she said.
"He has been stolen from me and all that's left in his place is the suffocating reality that is his absence.
"To say I miss him is such a huge understatement of the truth, it's an insult to his memory.
"He was my best friend. I'm a different person now since his death. I'm sad all the time.
"I've lost most of my friends because I can't talk to anyone and I'm filled with this anger and resentment."
She said she went along to part of the trial in the hope it would help her to come to terms with her father's death.
But the teenager said she found the process traumatic.
"I wanted to be there for my dad, fighting his corner as he would have done for me," she said, after the trial concluded.
'Slap in the face'
"I had hoped to gain some closure from it all, that maybe I would see some remorse from Mark Ward.
"I feel if this had been the case then I could maybe put it behind me and start to grieve properly.
"Unfortunately, Mark Ward showed nothing but contempt for my family and I, he repeatedly glared over his shoulder at me, which made me very uncomfortable.
"The worst part was when he was being led away at the end of the day, he looked over and spat in my direction.
"He spat at us, right there on the ground of the court.
"It was such a slap in the face. His callousness towards myself and my family was the reason I felt I couldn't go back to court."
She said Ward had "ruined" her life.
"He stole my dad from me in the most horrific way and sat there completely indifferent to what he had done.
"My dad was a great father. He loved me truly and I loved him.
"He will never see me grow up, pass my driving test, graduate university or walk me down the aisle at my wedding."