Marcell Seeley murder: Mark Ward jailed for 16 years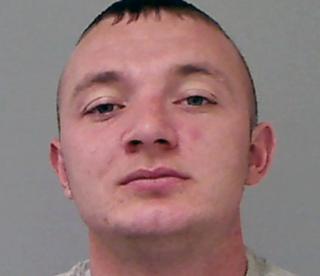 A man has been jailed for at least 16 years for a "vicious and sustained" beating that left another man dead in his home in County Armagh.
Mark Daniel Ward, 26, from Drumellan Gardens in Craigavon, was convicted of murdering Marcell Seeley in 2015.
Mr Seeley's body was discovered in the living room of his Dingwell Park flat in the Tagnaven estate in Lurgan.
The judge said "gratuitous and extensive violence" had been used during the attack.
Mr Seeley, who was 34 and known as Junior, was found in October two years ago with head injuries, which produced both swelling and bleeding to the brain.
The father-of-four also suffered two fractured ribs, a fracture to a bone just above his voice box and a shoulder injury.
A pathologist concluded Mr Seeley would have survived for several hours after the injuries were inflicted.
Mr Seeley's teenage daughter told the court in a victim statement that the murder had had a "devastating" impact on her life.
"He was my best friend - I'm a different person now since his death, I'm sad all the time," she said.
Ward had shown "nothing but contempt" for her family, she added, "yawning and stretching" while Mr Seeley's list of injuries was read out in court.
As he was being led from the dock having been convicted in June, Ward had turned to the public gallery and verbally abused Mr Seeley's family.
Mr Seeley's sister, Carrai Doran, said her life had been "frozen in time" since she lost her brother.
During the sentencing, police officers stood between the Ward and Seeley families in the public gallery.
The judge said Ward had "abandoned" a "gravely injured" man who he had known for years.
He told Ward that there were no mitigating factors on his behalf and there would be no remission on his sentence.
Det Ch Insp Eamonn Corrigan said the case had been "unique and hugely complex", with footprints found at the scene of the killing providing the key to Ward's conviction.
A "distinctive" sole pattern was matched to shoes worn by Ward in CCTV footage of him walking towards Mr Seeley's home on the night of the murder.
He had also worn the shoes while he was in police custody, also captured by CCTV cameras, for an unrelated matter in the days after the attack.
The shoes have never been found but the CCTV footage of Ward, combined with the discovery of his DNA on a cigarette butt at the murder scene, led to his arrest.
Det Ch Insp Corrigan described the murder as "brutal and callous", adding that Ward had refused to cooperate with detectives during 16 interviews.
"The one place you should feel safe is your own home and that's where Marcell was when Mark Ward brutally killed him," he said after the sentencing.
"I welcome that Mark Ward is now behind bars, however, Marcell's family still face a lifetime sentence and his children will now grow up without a father."