English literature GCSE and AS Level re-marking reopened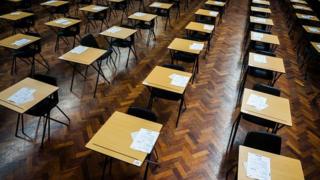 The re-marking process for AS and GCSE Level English literature is to be reopened until 17 October, the head of the exams body CCEA has said.
It follows controversy over the marking of some papers.
The CCEA's Justin Edwards said English literature was particularly affected because answers are subjective.
Twelve Northern Ireland pupils had exam results raised significantly - by two or more grades - following re-marking of some GCSE and AS Level tests.
While other results were raised or dropped by one grade, statistics suggest such cases are rare.
This year there were 640,947 subject entries across GCSE, AS and A-level in Northern Ireland.
Subsequently there were 12,990 requests for exam remarks - a re-mark rate of about 2%.
From D to A
Mr Edwards said he would reopen the marking review process until 17 October for GCSE English literature and AS English literature papers.
"I'm reopening it because I want to give the public the confidence that if they feel they've missed the opportunity, then let's be open and fair," Mr Edwards told the BBC's Nolan Show.
"We want the remarking process to work - that's why it's there.
"We'll give the learners the opportunity through their schools - we'll do it through the normal process, because I think it's a very important part of the discussion with the teachers and if teachers want to through their schools submit for a remark we'll do that."
Mr Edwards said English literature was the only subject for which the process would be reopened, as no evidence suggested other subjects should be reconsidered.
"The statistics for other subjects are comparable if not better than in previous years," he said. "CCEA is improving this process and I don't think it's right to reopen these subjects.
"There are individual cases and they're will always be individual cases of dispute and appeal, but the process is working appropriately in those cases."
It was revealed on the Nolan Show on Monday that one pupil was originally given a D grade but leaped to a grade A when the test was remarked.
The programme spoke to a woman called Joanne, whose teenage daughter sat a GCSE English Literature paper earlier this year.
When her daughter went to school to pick up her results for that paper in August, she got a mark that was well below what she expected to get.
"She rang me crying," Joanne told the Nolan Show. "She said that she had got a D in her English Literature.
"So, we had to wait until school started again and we paid £18 for that one paper to be remarked and it came back as an A."
The cost of requesting remarking can range from £18 to £36 pounds.
The fees are refunded by CCEA if there has been a mistake and a pupil's grade changes as a result of a remark.