Brexit talks to discuss Northern Ireland and Irish border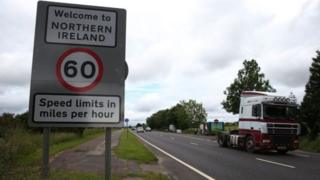 Northern Ireland and the Irish border are expected to be discussed at the Brexit talks in Brussels on Tuesday.
At the last round of talks, the Brexit Secretary David Davis said work on preserving cross-border cooperation was "moving at pace".
However the EU's chief negotiator and the Irish foreign minister gave a more measured assessment.
Ireland is one of three issues where 'sufficient progress' must be made before the EU will start trade talks.
On Monday, Prime Minister Theresa May said her government had begun "drafting joint principles on preserving the Common Travel Area, and associated rights".
The Common Travel Area allows passport-free travel between Britain and Ireland, and gives British and Irish citizens a range of rights in each other's countries.
Mrs May also repeated the position that the UK will not accept any physical infrastructure at the border after Brexit.
The UK also published papers on future trade and customs arrangements.
They contain little new detail about the operation of the Irish border and largely restate ideas first published in the summer.
The papers also discuss contingency planning for customs arrangements in the event of a 'no deal' Brexit.
The section on the Irish border in a no deal scenario consists of two paragraphs and has no detail of what would happen in practice.