Stormont talks: 'Some progress' but still no deal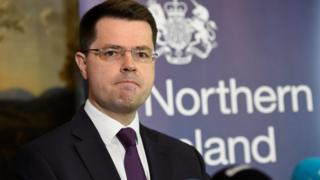 The DUP and Sinn Féin have made some progress on aspects of language and culture in talks to restore Stormont, the secretary of state has said.
James Brokenshire said the two parties have reduced the number of sticking points between them but he added that "clear differences remain".
He said he stands ready to bring forward legislation to enable an Executive to be formed.
But he repeated his warning that the talks timeframe "is not indefinite".
The secretary of state made the comments in a written statement at Westminster, as Sinn Féin and the DUP continue discussions behind the scenes aimed at restoring devolution.
Mr Brokenshire also repeated his pledge to intervene if a deal is not put in place.
He wrote: "As secretary of state, I have a responsibility for good governance and political stability in Northern Ireland - which has now been without a full executive for 10 months.
"If devolved government is not restored in the next few weeks, I will consider carefully what steps are needed in the best interests of the people, the voluntary sector, public services and businesses in Northern Ireland."
He reiterated his pledge which he made at last week's Conservative Party conference that he would introduce "legislation later this month to set a budget for 2017/18, putting Northern Ireland on a path towards greater UK government intervention in its day-to-day affairs."
Deal or no deal?
Sinn Féin's Pat Sheehan said there was "quite a bit of work to be done" if his party and the DUP are to overcome their differences.
Mr Sheehan added that republicans will "continue working until we get a deal or the thing falls apart".
The secretary of state urged the parties to overcome their remaining disagreements and said he believes a deal can still be achieved.
"The parties have shown leadership and the ability to look beyond their differences in the past to resolve significant challenges which have separated them" Mr Brokenshire said.
"With the right spirit of compromise this can be achieved and now is the time to come together and reach agreement."
Northern Ireland has been without a functioning executive since January.
The institutions collapsed following a row between the DUP and Sinn Féin over a botched green energy scheme.
Several rounds of talks involving the British and Irish governments and the local parties have, so far, failed to reach an agreement.