Virgin Mary statue 'desecrated' in County Tyrone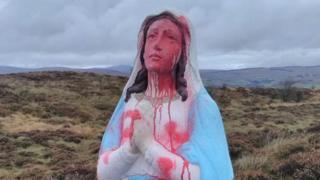 Graffiti has been daubed on a religious statue in Greencastle, County Tyrone, in what some local people have described as a "desecration".
The statue of the Virgin Mary was erected at the reputed site of a Mass rock in April.
It is not known who originally erected it.
The site of the statue overlooks a facility owned by Canadian mining company, Dalradian Gold.
By Monday afternoon, more than 1,200 people had left messages on the Greencastle Community Voices Facebook page, which had published the picture on Sunday.
Almost all of those who left messages were angered by the graffiti, described by the page as a "desecration".
The post had been shared almost 900 times.