Call to release DUP-Tory deal cash for NI mental health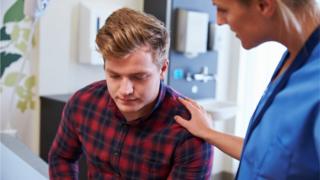 NI's leading mental health charities have called for the release of £50m earmarked for mental health to relieve the mounting pressure on services.
The funding was negotiated and agreed between the DUP and Conservative government as part of the recent £1.5bn post-general election pact.
The money has yet to be released as it must be authorised by parliament.
David Babbington of Action Mental Health said: "Uncertainty means people are suffering".
Charities such as Action Mental Health, Aware Defeat Depression and Nexus have joined together to form the Together for You partnership.
'Get real'
Mr Babbington said long waiting lists was just one of the reasons it was "absolutely crucial" that the funding be made available.
"People are no longer able to access the services, including new services such as a new eating disorder service which is required, and this is known by the Department of Health," he said.
"Also, more psychological therapies as well. These are all issues that politicians need to get real about and provide resources for."
It is estimated that one in five people in Northern Ireland has a mental problem at any one time.
Northern Ireland also has higher levels of poor mental health than anywhere else in the UK, including suicide rates.
But, despite this, mental health funding in England is approximately 25% higher than in Northern Ireland.
Political vacuum
Mr Babbington said there was an urgent need for an injection of investment for local services.
He said the political vacuum has halted proceedings, meaning issues relating to mental health service delivery have been exacerbated.
"We regularly hear of waiting lists growing and people in great need being made to wait for treatment and care," he said.
Meanwhile, the Community Foundation for Northern Ireland is also calling for the political institutions at Stormont to be reinstated.
It follows the publication of a report that suggests communities are struggling to cope with a range of mental issues due to a lack of support.
The report reveals that in the past decade the ministerial group on suicide prevention met just 11 times.
Northern Ireland has been without a functioning devolved government since January, when the coalition led by the two biggest parties, the DUP and Sinn Féin, collapsed over a botched green energy scheme.