World Cup 2018: Predicting Irish play-off paths to Russia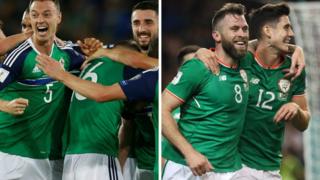 Northern Ireland is officially in the thick of play-off mania.
It's been 31 years since the Green and White Army last qualified for a World Cup.
But, in November they will face a two-legged tie that could book their flights to Russia next summer.
It's the country's first ever play-off for a major football tournament. But who could be the final obstacle standing between Northern Ireland and a mission to Moscow?
And could Northern Ireland even end up facing the Republic of Ireland 22 years after their last competitive fixture and 24 years since the rancorous Battle of Windsor Park in 1993?
The short answer: It's extremely unlikely!
But, weird things happen in football all the time and it's a Monday so we might as well try to bash a path through the results needed to set up a Northern Ireland and Republic of Ireland World Cup show down.
Using the fixtures, form guides and Fifa's PhD-requiring world rankings system, here's a run down of the probabilities and possibilities facing the Green and White Army and Boys in Green on their Road to Russia.
So get out your football abacuses and fire up a terrace chant of 'here we go' - because here we go...
The draw
The play-off draw takes place in Zurich on Tuesday, 17 October and in true football fashion nothing about the process is simple.
First of all, the draw is made of eight runner ups from the European World Cup qualifying groups - but there are nine qualifying groups.
That means the worst runner-up of the nine groups will not be part of the draw.
Fortunately, Northern Ireland have avoided that fate and are one of just three teams (along with Italy and Denmark) absolutely guaranteed to be in the draw.
On top of that, the draw will be seeded meaning that the top four teams based on Fifa's rankings will be drawn against the bottom four teams.
Things are simpler for the Republic - they beat Wales on Monday night and are guaranteed a play-off place but will not be among the seeded teams.
So, the questions for Northern Ireland - who might they face? And can they get a place among the seeds, making possible a massive game against the Republic?
The Probabilities
Teams from six groups are vying for the five remaining play-off spots: Portugal or Switzerland; France, Sweden or the Netherlands; Serbia, Wales or Republic of Ireland; Slovakia; Greece; and Iceland, Croatia or Ukraine.
While it's mathematically possible any of these teams could end up in the play-offs, it's likely France, Iceland and Serbia will secure the results needed to qualify automatically.
Greece and Sweden are also almost certain to qualify for the play-offs - the Greeks simply need to beat minnows Gibraltar (a team that has lost every tournament qualifier in its brief history) and Sweden would have to lose by seven goals to the Netherlands to miss out.
So, play-off wise, Greece and Sweden are extremely likely to be in next week's draw.
Now we've got three places left - and here's where things get really complicated...
The Possibilities
Remember we mentioned that the worst runner-up doesn't get in to the play-offs at all? That's about to become important (and a little head frying).
The two most important games in this equation, by a distance, are on Monday night - Ukraine against Croatia in Kiev and Wales against the Republic in Cardiff.
Simply put, whoever wins in Kiev and Cardiff will be guaranteed a play-off spot.
If both matches produce a winner, then Slovakia, the runners-up in Group F, will be eliminated as worst runners-up.
If both games end in a draw, then Slovakia will get into the play-offs and it'll come down to goals scored between Wales and Croatia - and, really, it's too close to call.
However, for the purposes of this idle slice of sporting speculation, let's say Ireland defeat Wales in Cardiff and the Ukraine and Croatia draw putting Slovakia through.
These results would give Northern Ireland a slim chance of being seeded in next week's play-off draw.
Seeds of change
And now we come to the real kicker - can Northern Ireland gain a place among the top four seeds in the play-off draw?
The short answer is yes, but in all likelihood it'll take a serious run of results to make that a reality.
As it stands, it's very close - if, for instance, Slovakia and Wales qualified, then Northern Ireland would be the fifth highest seed, just missing out on seeding.
If. however, as we've outlined, the Republic and Slovakia qualify then the seeding picture based on Fifa rankings would look like this:
Portugal (3)/ Switzerland (7)
Italy (17)
Slovakia (19)
Northern Ireland (20)
Sweden (23)
Denmark (26)
Republic of Ireland (32)
Greece (47)
At the moment, Northern Ireland would just squeak into the seedings. Hooray, right? Not quite.
Fifa are due to release October's world rankings next Monday, one day before the play-off draw.
With Northern Ireland's defeats against Germany and Norway to be taken into account, they will drop slightly in the rankings.
It's difficult to predict exactly how Northern Ireland will fare compared to their play-off rivals, but using Fifa's own rankings predictor tool we can see that Denmark are expected to leap above Northern Ireland but Slovakia could fall below them.
This means it all comes down to Sweden against the Netherlands - a Netherlands win by less than seven goals should keep Michael O'Neill's men in the top four.
And if that happens, Northern Ireland could face the Swedes, Slovakia, Greece or - you guessed it - the Republic in a two-legged affair that would likely bring the entire island to a standstill and cause the biggest ticketing and stadium headache this side of Garth Brooks in Croke Park.
Phew! But, as if you didn't notice, there's only a slim chance that all of the above falls into place just right for an All-Island World Cup grudge match.
The Green and White Army are more likely to face seeded opposition with undesirables such as Italy and Portugal lurking among the possibles.
All will become clearer by Tuesday night when the qualifying campaign ends and the the play-off line-up is confirmed.
In the meantime, get those passports updated just in case - Russia remains tantalisingly close.